About
Secretary Crowfoot hosts monthly discussions with leaders and big thinkers from across California to discuss emerging natural resources issues. This open forum allows for new and different perspectives about how we best steward California's resources.
These events are public, live-streamed on YouTube, and recorded for later viewing. Links to each of these discussions are presented below.
Upcoming Speaker Series Event
April 22 marks the 51st anniversary of the first Earth Day, which is credited with launching the modern environmental movement, and is now recognized as the planet's largest civic event. To celebrate Earth Day this year, CNRA will be celebrating with a week's worth of events and activities from April 19-23. Stay tuned for more details.
Previous Speaker Series Events
March 24, 2021, 12:30 PM: Between 2 States: The Tahoe Advisory Science Council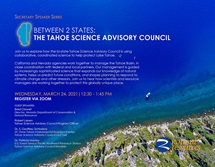 ---
March 12, 2021, 12:30 PM: The Science Exchange: A Culture of Change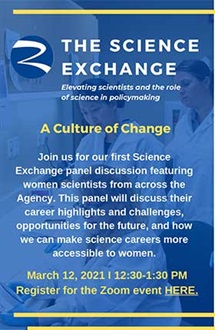 ---
February 23, 2021, 12:30 PM: Paradigm Shift: Strengthening Our Wildfire Resilience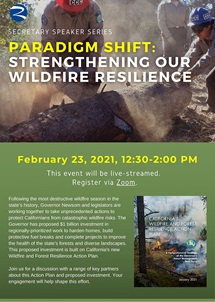 ---
February 2, 2021 - Secretary Speaker Series: 2021 Priorities with Secretary Crowfoot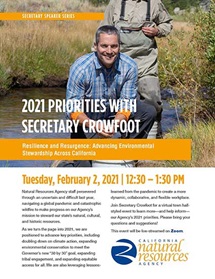 ---
December 16, 2020 - From California to Kunming: The Global Effort to Tackle the Nature Crisis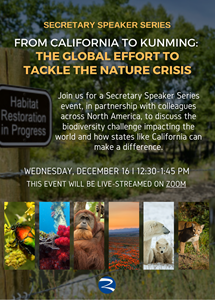 ---
November 13, 2020 – Building Trust Between State and Tribal Governments: What Does True Co-Management Mean?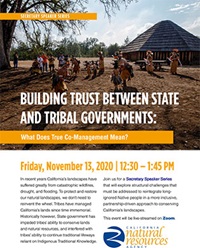 ---
September 25, 2020 – From Wildfire to Water: Investing in Nature Based Solutions to Build Climate Resilience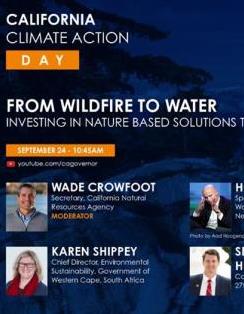 ---
---
September 16, 2020 – 12:30 PM: Remembering Huey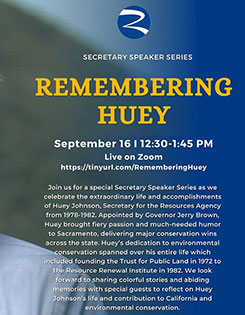 ---
August 12, 12:30pm-1:45pm: Beyond Polarization: The Unlikely Story of California's Marine Protected Areas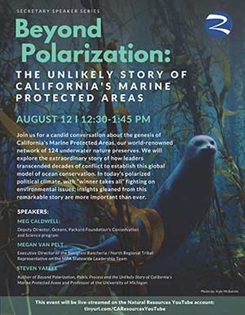 ---
July 15, 12:30-2 p.m.: What We Can Learn from Our Past to Move Toward an Equitable Future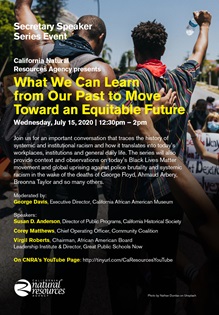 ---
June 23, 12:30 p.m.: Preserving Conservation - Revitalizing Fishing and Hunting in California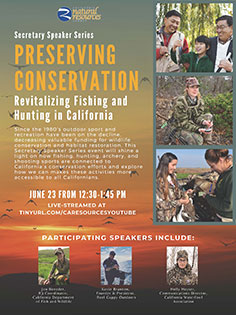 ---
May 20, 2020: In Conversation with Obi Kaufmann - Environmentalist, author, and illustrator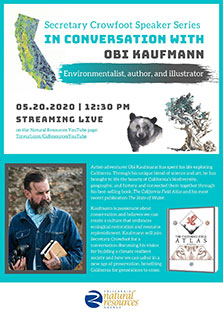 ---
April 22, 2020: Celebrating the 50th Anniversary of Earth Day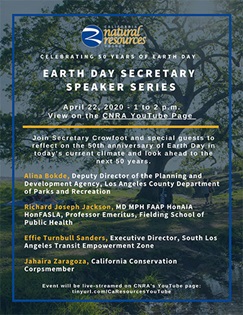 ---
March 4, 2020: Stewarding the Sierra Nevada Amidst Climate Change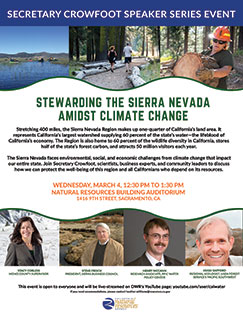 ---
February 18, 2020: 2020 Priorities with Secretary Crowfoot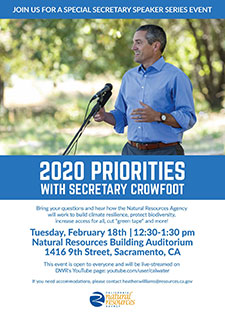 ---
January 14, 2020: Improving Access to California's Natural and Cultural Treasurers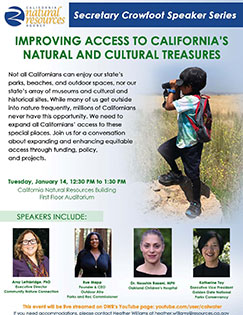 ---
November 18, 2019: Protecting California Communities in the Age of Mega-Fires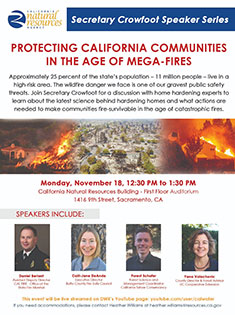 ---
September 5, 2019: California's Biodiversity Challenge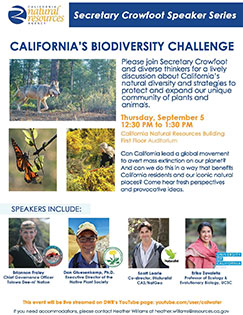 ---
July 15, 2019: Reactivating Our Floodplains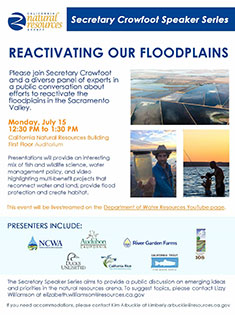 ---