Officially opened in fall 2021, the new California Natural Resources Headquarters at 715 P Street boasts an array of new amenities for both workers and partners to our work to enjoy.
The space includes a public auditorium (capacity of 300), indoor bicycle and scooter storage, and indoor and outdoor gathering locations throughout. Further, opening soon is a multi-option food court, fitness center, and child-care facility.
The building includes many elements that connect its visitors to nature. Recycled and salvaged wood from the Paradise Fire are featured along the building's entry walls. The building's silhouette mimics rock formations found around California, and spaces between columns in the building produce images of naturally formed slot canyons. These elements and more are summarized in a large quote above the front concierge by Gary Snyder: "Nature is not a place to visit. It is home."
In addition to the California Natural Resources Agency, the new headquarters building houses 11 affiliated organizations and their associated 4,200 staff members.
California Energy Commission
California Water Commission
Delta Stewardship Council
Department of Conservation
Department of Fish & Wildlife
Department of Forestry and Fire Protection (CAL FIRE)
Department of Parks & Recreation
Department of Water Resources
California Fish and Game Commission
Office of Energy Infrastructure Safety
Wildlife Conservation Board
There are various signature art pieces throughout the building including a sculpture based on a California Sequoia at the P street entrance (Artist: John Grade), an oversized beadwork using cast adobe beads and modern skateboard wheels, where each "bead" is loomed together in the same manner as Indigenous regalia but on an outsized scale on the 2nd floor (Artist: Ishi Glinsky's of the Tohono O'odham Nation), and multiple forms of digital public art including silent video, slow motion video, virtual and augmented reality, computer animation, hand-drawn animation, and various photographic styles. To learn more about the public art displayed in the building click here.
Exterior pavers highlight some of California's threatened species and serve as a reminder to the importance of our work. Species from across California's landscapes are representing, including...
Coastal: Short-tailed albatross, greater sandhill crane, marbled murrelet, Pacific pocket mouse, southern sea otter, Steller sea lion, leatherback sea turtle, and California tiger salamander
Forest: California condor, bald eagle, great gray owl, northern spotted owl, Point Arena Mountain beaver, Sierra Nevada red fox, wolverine, and gray wolf
Delta: Western yellow-billed cuckoo, willow flycatcher, Swainson's hawk, riparian brush rabbit, blunt-nosed leopard lizard, and riparian woodrat
Desert: Gilded northern flicker, elf owl, desert tortoise, barefoot banded gecko, Alameda whipsnake
Glacier: Golden eagle, Sierra Nevada bighorn sheep.
ECOFRIENDLY - We are proud to announce the new California Natural Resources Agency Headquarters is a (Leadership in Energy and Environmental Design) LEED Platinum Certified Building! The building contains many functions to ensure maximum energy efficiency including chilled beam radiant systems throughout, LED lighting, high-reflectance non-roof and roof surfaces to mitigate solar heat gain and regional average warming trends.
HOURS - We're open 6 a.m. to 6 p.m., Monday through Friday, excluding holidays.
VISIT US! The building has much to offer and was designed to create connectivity with the community through usable open space at the pedestrian level, with public access to both retail and food services. Inquiries about visiting the California Natural Resources Agency should be directed to Outreach@resources.ca.gov .
The California Natural Resources Agency invites you to an in-person event...
Headquarters Housewarming
Friday, June 10, 2022 | Open House: 10 a.m. to 12 p.m. | Secretaries Dialogue: 12:30 to 2:00 p.m.
715 P Street, Downtown Sacramento
Our California Natural Resources Agency and many of its departments have moved homes for the first time in six decades! We are excited to welcome you to our interactive and environmentally friendly new campus at the corner of 8th and P Streets.
Please join us for an inclusive open house to mark this moment. We will provide tours of the new building, visit with each other in person (it's been a long time!), and talk with past Agency Secretaries about how our natural resources management has evolved in recent decades. We'll also unpack a time capsule set in the old building and place an updated time capsule in our new campus. Please join us!
NOTE: If you are unable to attend, but would like to watch the Secretaries Dialogue beginning at 12:30 p.m., you must register via zoom.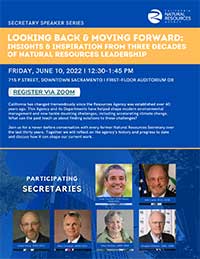 Looking Back & Moving Forward: Insights & Inspiration from Three Decades of Natural Resources Leadership – June 10, 2022, 12:30-2:00 p.m.
California has changed tremendously since the Resources Agency was established over 60 years ago. This Agency and its Departments have helped shape modern environmental management and now tackle daunting challenges, including accelerating climate change. What can the past teach us about finding solutions to these challenges?
Join us for a never-before conversation with every former Natural Resources Secretary over the last thirty years. Together we will reflect on the agency's history and progress to date and discuss how it can shape our current work.
---
Address: 715 P Street, Sacramento, CA 95814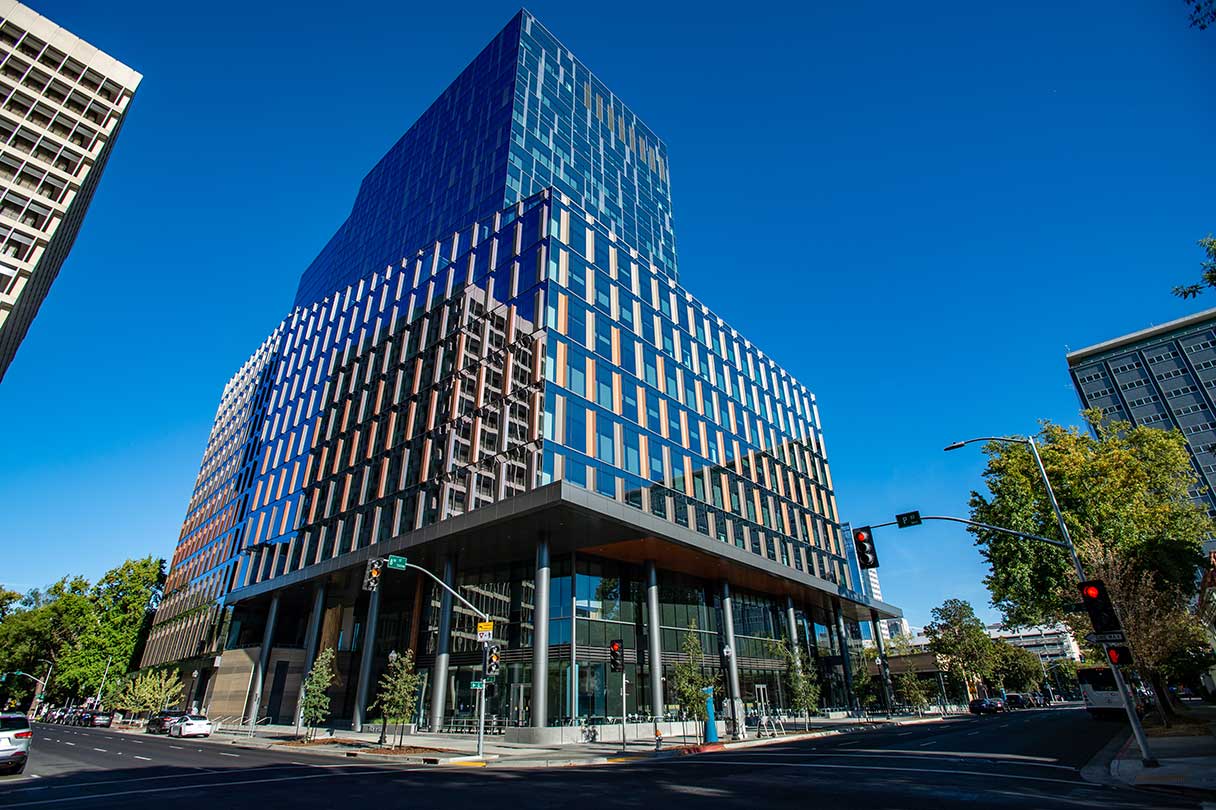 Our state-of-the-art building includes 21-stories and 834,225 square feet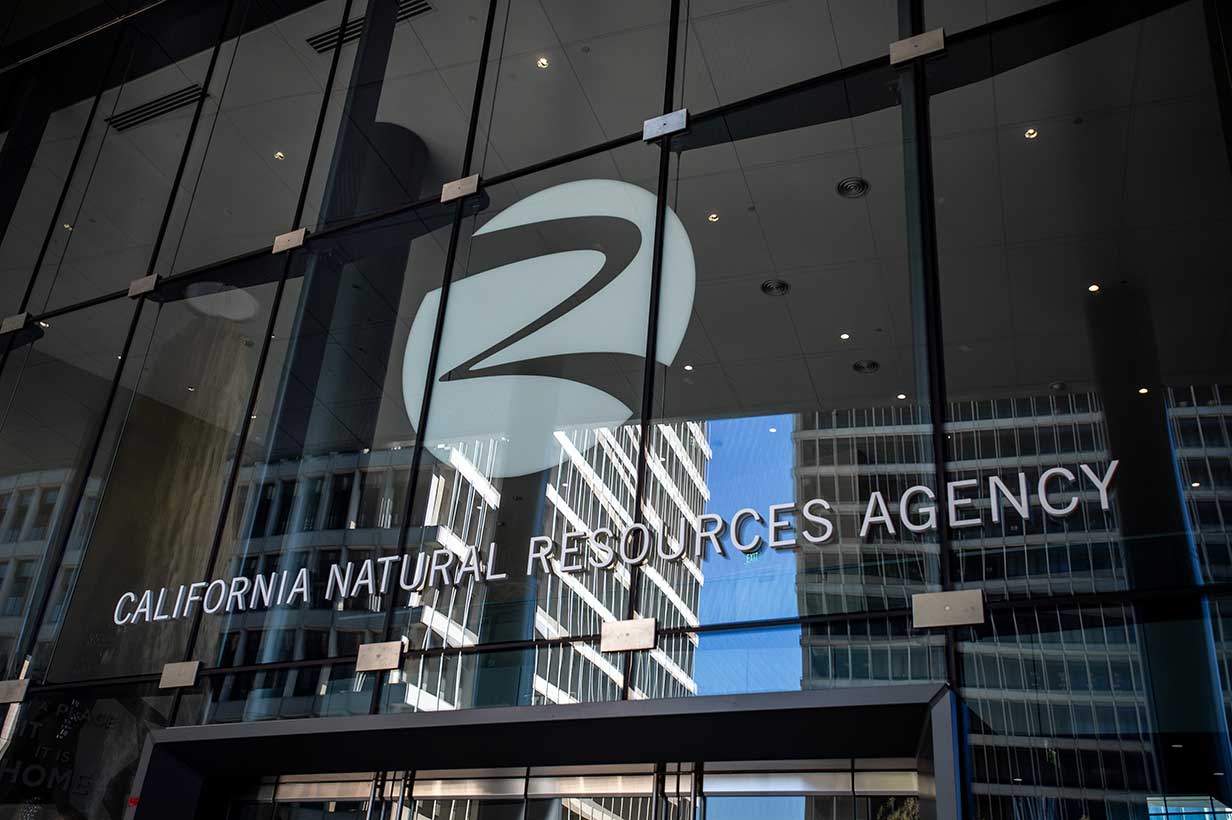 We opened our doors in fall 2021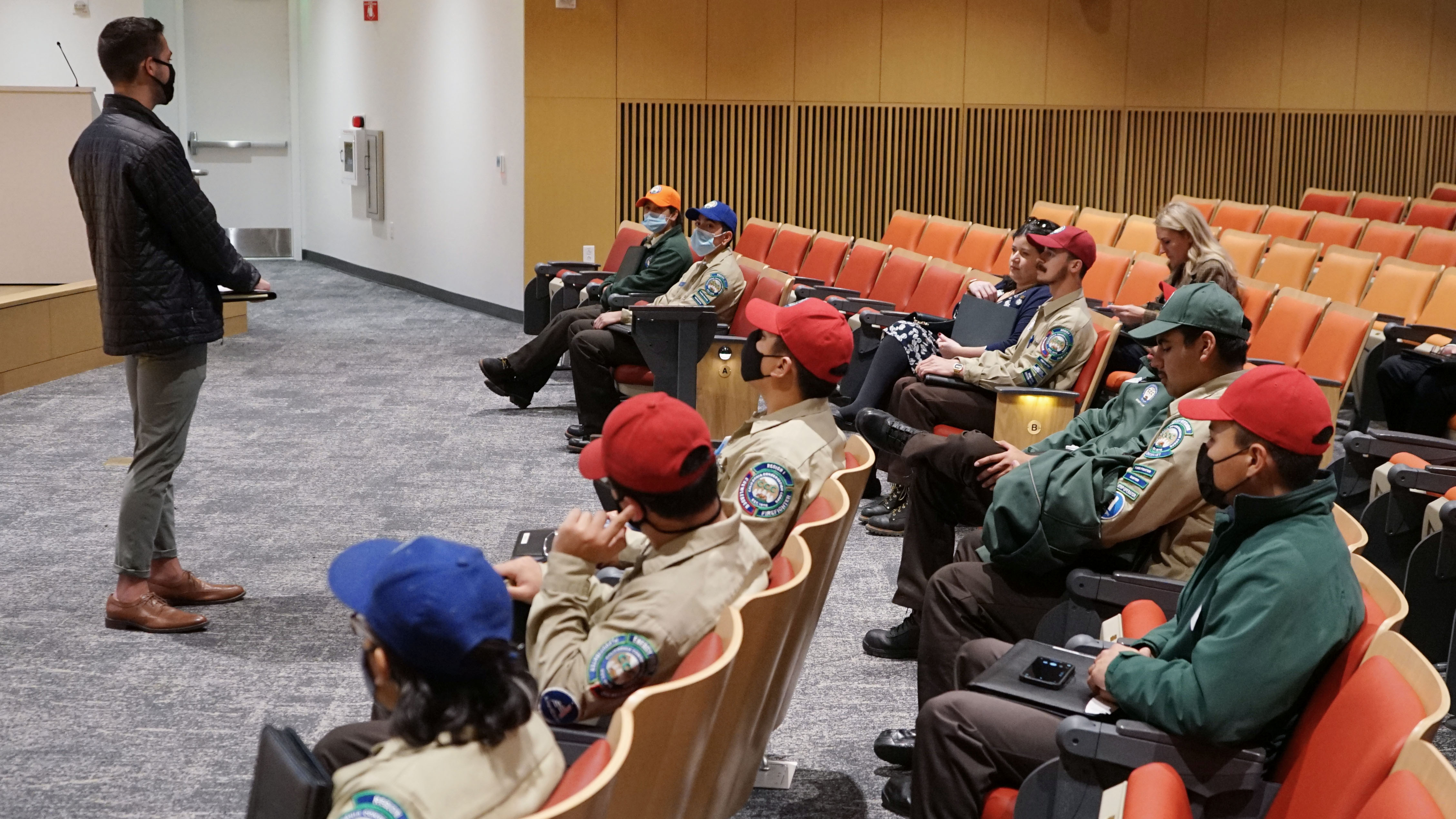 We look forward to future opportunities for events in our 300 person auditorium
Art can be seen throughout various areas of the new headquarters building