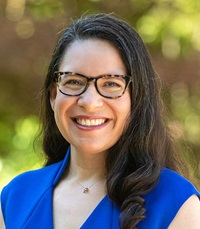 Angela Barranco joined the California Natural Resources Agency in May 2019. As Undersecretary, Angela oversees an agency charged with protecting and managing California's diverse resources. This includes stewarding the state's forests and natural lands, rivers and waterways, coast and ocean, fish and wildlife, and energy development.
At the state, federal, and local levels, Angela has served as a non-profit executive, communications and outreach strategist, and Federal Presidential appointee. Before she was appointed Undersecretary, Angela was Chief Executive Officer at River LA, a non-profit focused on bringing together the Los Angeles region through the reimagining of the L.A. River as a multi-benefit urban infrastructure. As a Presidential Appointee, Barranco led public engagement for the Obama White House on environment, conservation, climate, and energy issues. She also served as Deputy Chief of Staff at the U.S. Department of Housing and Urban Development, working on Detroit revitalization, Promise Zones, and climate-smart post-disaster rebuilding. Barranco managed and advised political campaigns across the country, including as National Western Regional Director for the Obama 2012 re-election campaign. Additionally, she has experience in communications and environmental policy work at the U.S. Congress, state, and municipal levels.
Angela received a bachelor's degree in Environmental Biology from Columbia College, Columbia University, with a focus on conservation. She is bilingual and fluent in Spanish.