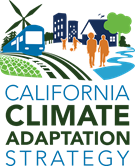 The world's leading climate scientists have made it clear - our window to avoid the worst impacts of climate change is narrowing faster than expected, and success requires unprecedented collective effort and transformational change.
NEW: Please join the California Natural Resources Agency and the Governor's Office of Planning and Research for a public workshop series to inform annual reporting on the 2021 California Climate Adaptation Strategy. For more information, click the "Reporting on Progress " tab below.
The updated California's Climate Adaptation Strategy reflects an evolved approach. It outlines the state's key climate resilience priorities, includes specific and measurable actions, and serves as a framework for collective efforts across sectors and regions in California.

The Climate Adaptation Strategy elevates six key priorities that must drive all resilience actions in California:
Strengthen Protections for Climate Vulnerable Communities
Bolster Public Health and Safety to Protect Against Increasing Climate Risks
Build a Climate Resilient Economy
Accelerate Nature-Based Climate Solutions and Strengthen Climate Resilience of Natural Systems
Make Decisions Based on the Best Available Climate Science
Partner and Collaborate to Leverage Resources
The updated strategy builds on successful elements of previous strategies, and reflects recent efforts to double down on protecting communities, our economy, and nature from the impacts of climate change. This update:
Organizes the state's climate adaptation efforts around six outcome-based resilience priorities, and increases our ability to measure progress.
These priorities reflect and reinforce regional climate resilience priorities; were developed through robust public engagement and in consultation with California Native American tribes; and specify timeframes and metrics to drive progress and enable accountability.


Breaks down siloes and unifies collective climate adaptation efforts across all sectors and regions.
An outcome-based approach sets strategic direction, supports coordinated, integrated efforts, recognizes how climate adaptation is implemented on the ground, and reflects our commitment to integrating climate resilience into the work of all state agencies.


Makes it easier for Californians to understand and contribute to California's climate resilience agenda.
Presented as an interactive website, the Strategy provides a central hub for information on the state's climate resilience actions. The website will stay updated to track progress and adjustments, and integrate emerging best available science.
California is required by statute (Public Resources Code §71150 - 71160) to issue an updated climate adaptation strategy every three years, and to report on progress annually. The California Natural Resources Agency and the Governor's Office of Planning and Research held a public workshop series in fall 2022 to inform annual reporting on the 2021 California Climate Adaptation Strategy.
This workshop series built upon the extensive public outreach and engagement undertaken for the 2021 Strategy update. The workshop series consisted of two parts:
Part 1 was designed to gather input on public priorities for the annual reporting process and content related to the California Climate Adaptation Strategy.
Part 2 focused on soliciting public input on implementation of the 2021 State Adaptation Strategy, including progress made to-date and future areas of focus.
To check out the 2021 California Climate Adaptation Strategy, please visit: https://climateresilience.ca.gov/
Series 1 – Reporting Process and Content
You can find a recording of the presentation portion of the workshops here.
Series 2 – 2021 Implementation
You can find a recording of the presentation portion of the workshops here.
The most recent Annual Implementation Progress Report for the 2021 California Climate Adaptation Strategy can be found here. The Implementation Progress Report was released in April 2023
You can watch the April press release event for the Implementation Progress Report here.
In October 2021, the draft Strategy was released for public comment.
To kick off the public input phase, we hosted a webinar on Friday, October 22 to orient readers to the draft. Click here to view the recording. We also held three virtual public comment workshops in October/November 2021.
In June 2021, we held 10 regional virtual workshops throughout the state to ensure the state's Strategy reflects and reinforces regional priorities; draws connections among our collective efforts; and serves as a useful resource for all Californians. View workshops summaries and input here:
In May 2021, we held a virtual public engagement kick-off webinar to provide key background information on the Administration's proposed approach, timeline, and priorities for the 2021 Strategy, and information on the subsequent regional public workshops.
In February 2021, we issued a short public survey to understand how previous state Climate Adaptation Strategies were useful so that we could incorporate what worked and adjust what didn't. This input helped us identify key goals for the 2021 update - check this presentation out for more information!
NEW – California's Extreme Heat Action Plan was released April 28. The plan provides a strategic and comprehensive set of state actions to adapt and build resilience to extreme heat. It outlines California's all-of-government approach to mitigating the health, economic, cultural, ecological, and social impacts of increasing average temperatures and heatwaves.
Read the Extreme Heat Action Plan (18 MB)
The content and organization of this plan were guided by extensive public input, including listening sessions, regional workshops, as well as consultations with California's Native American Tribes. In addition to these opportunities, two workshops were held after the draft Action Plan was released in January 2022 to fine-tune priority state actions and areas of focus for the plan.
Background
The development of the action plan was initiated through the state's 2021 update to California's Climate Adaptation Strategy. The public input process helped to identify and fill key gaps in adaptation actions, for example, recognizing a need for an updated, integrated approach to addressing climate-driven extreme heat and driving an update and expansion of the state's 2013 report on extreme heat ("Preparing California for Extreme Heat Guidance and Recommendations").
Based on input received, the Extreme Heat Action Plan outlines areas of near-term focus and is organized into four action tracks:
Building Public Awareness and Notification

, to increase understanding of the threats posed by increasing temperatures and preparation for extreme heat events.

Strengthening Community Services and Response

, to increase community capacity, reduce the economic risks of extreme heat, and increase efforts to protect vulnerable populations.

Increasing Resilience of Our Built Environment

, to drive actions in the transportation, energy, and building sectors that reduce heat risks.

Utilizing Nature-Based Solutions

, to cool vulnerable communities and build resilience of natural systems to the impacts of extreme heat.
We kicked off our Extreme Heat Workshop Series in Spring 2021. Check out the workshop agendas and key questions for the three workshops here:
Extreme Heat Symposium