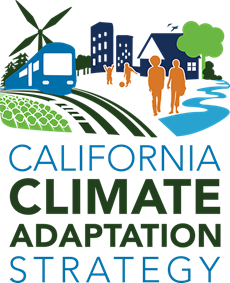 The Newsom Administration is updating California's Climate Adaptation Strategy this year, as required by the Legislature. Our goal is to deliver a 2021 Strategy that outlines the state's key climate resilience priorities, includes specific and measurable steps, and serves as a framework for action across sectors and regions in California. For questions on this effort, please email the state's coordination team (California Natural Resources Agency and the Governor's Office of Planning and Research) at icarp@opr.ca.gov.
NEW: The draft 2021 California Climate Adaptation Strategy was released for public comment on October 18 and closed on November 17. Click on "Draft Strategy for Public Comment" below to access the draft and to watch public comment workshops hosted as part of the public comment period.
NEW: In October, the draft 2021 California Climate Adaptation Strategy was released for public comment. We welcome your input, which will help improve the final strategy that will be used to direct climate resilience efforts across state government!
1. To kick off the public input phase, we hosted a webinar on Friday, October 22 to orient readers to the draft. Click here to view the recording.
Para ver los subtítulos en español*, seleccione "Configuración" (ícono de engranaje) en la esquina inferior derecha del video. Seleccione "Subtítulos". Después, seleccione "Inglés (generado automáticamente)". Esto lo llevará de vuelta al menú principal "Configuración". Vuelva a seleccionar "Subtítulos (1)". Luego, seleccione "Traducción automática". Desde aquí, seleccione "Español" del menú desplegable de idiomas disponibles.

*Al brindarle información acerca de esta herramienta y cómo acceder a ella, ni la Agencia de Recursos Naturales de California, ni la Oficina de Planificación e Investigación del Gobernador ni el Estado de California garantizan la validez o precisión de la información traducida o el servicio de subtítulos cerrados proporcionado por YouTube.

In addition to welcoming comments in writing, we are organizing several opportunities to share feedback virtually.
2. Public Comment Draft Workshops – each workshop will cover the same content. Please select the date that works best for your schedule, and click on the link to register:
In June, we held 10 regional virtual workshops throughout the state to ensure the state's Strategy reflects and reinforces regional priorities; draws connections among our collective efforts; and serves as a useful resource for all Californians. View workshops summaries and input here:
In May, we held a virtual public engagement kick-off webinar to provide key background information on the Administration's proposed approach, timeline, and priorities for the 2021 Strategy, and information on the subsequent regional public workshops.
In February, we issued a short public survey to understand how previous state Climate Adaptation Strategies were useful so that we could incorporate what worked and adjust what didn't. This input helped us identify key goals for the 2021 update - check this presentation out for more information!
NEW – California's Draft Extreme Heat Action Plan was released January 10, and outlines a strategic and comprehensive set of state actions to adapt and build resilience to extreme heat.
You can read the draft by clicking on the link: Draft Extreme Heat Action Plan
The substance and organization of this plan was guided by extensive public engagement. In addition to input received through ten regional workshops and numerous consultations with California Native American tribes, the state held an Extreme Heat Workshop Series to gather recommendations on priority state actions and areas of focus for the action plan.
To provide feedback on the draft, please join us for the final workshops in our series on January 24, 2022. These workshops will be offered in English and Spanish.
Background
The development of the Draft Extreme Heat Action Plan was initiated through the state's 2021 update to California's Climate Adaptation Strategy, during which the lack of an up-to-date comprehensive, interagency approach to extreme heat was identified early on. To close this gap, the state committed to updating the 2013 report "Preparing California for Extreme Heat Guidance and Recommendations."
We kicked off our Extreme Heat Workshop Series in Spring 2021. Check out the workshop agendas and key questions for the first three workshops here: