Published Date: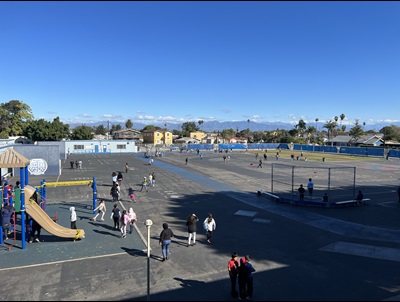 SACRAMENTO – The California Natural Resources Agency (CNRA) has selected 23 projects to receive a total of $47.5 million in funding through the Urban Greening Grant Program. The selected projects will create more sustainable communities by using natural and green infrastructure approaches, such as replacing schoolyard asphalt with native trees, plants, pollinator gardens and nature-based outdoor play areas, restoring wetlands or riparian corridors, or constructing new commuter paths to reduce vehicles miles traveled.
In 2021, Senate Bill 170 (Chapter 240, Section 10) allocated $50 million from the General Fund to CNRA for projects that reduce greenhouse gas (GHG) emissions and provide multiple benefits to Californians, including expanding access to parks and green spaces in disadvantaged communities across the state.
"Climate change is driving hotter and longer heatwaves," said California Natural Resources Secretary Wade Crowfoot. "Greening our streets and schoolyards with more trees and plants helps cool down conditions for our most vulnerable Californians, including kids and seniors. These greening projects also can beautify communities, improve recreational opportunities and peace of mind, enhance water capture and provide habitat for birds and animals."
Examples of funded projects include:
An award of $250,000 to the Seeley County Water District (Imperial County) to enhance John Robert Bates Memorial Park by planting trees and drought-tolerant landscaping, constructing rain gardens and creating a community garden.


An award of $2.75 million to the Trust for Public Land to create a green schoolyard at 107th Street Elementary School in the Los Angeles Unified School District. The project includes removing asphalt and replacing it with shade trees, drought-tolerant landscaping, nature-based play areas, and outdoor classrooms to educate and offer sanctuary for students.

An award of $3.67 million to Big Sur Land Trust to construct a new, 67-acre passive park within the Carr Lake Basin. The project will create and restore riparian habitat, diverse upland habitat and seasonal wetlands, and will include new interpretive signage and walking trails.


An award of more than $911,000 Mariposa County to restore two sections of Mariposa Creek and create a recreational parkway. The project includes removing invasive species, planting native trees and plants, and installing site amenities like benches, lighting, a picnic-area platform with tables and a trail kiosk.
A full list of grantees and funded projects is provided below. All of the projects reflect the state's commitment to reducing GHG emissions to meet a target of 1990 levels by 2030.

FULL LIST OF AWARDS
Alameda County:
Alameda County Public Works Agency, $103,140, Harmony Court Urban Greening Project.
Contra Costa County:
City of San Pablo, $4,790,690, San Pablo Area for Recreation and Community (SPARC) Project.
East Bay Regional Park District, $1,400,000, San Francisco Bay Trail Gap Closure to Martinez Intermodal Station.
Imperial County:
Seeley County Water District, $250,000, John Robert Bates Memorial Park Project.
Inyo County:
City of Bishop, $138,921, The Bishop Community Garden Expansion and Enhancement Project.
Kern County:
City of Bakersfield, $1,419,099, Citadel Urban Greening Project.
Kern County, General Services, $43,900, Virginia Avenue Park Urban Greening Project.
Los Angeles County:
City of Alhambra, $3,005,040, Green Street Demonstration Project.
City of San Fernando, $3,482,535, Carlisle Green Alley Project.
Los Angeles Neighborhood Land Trust, $1,188,495, Watts Towers Arts Center Campus Renovation Project.
The Trust for Public Land, $2,750,000, 107th Street Elementary Green Schoolyard Project.
TreePeople, $2,969,192, Middleton Street Elementary Living Schoolyard Project.
Mariposa County:
Mariposa County, $911,850, Mariposa Creek Parkway Phase I + II Restoration and Access Enhancements.
Merced County:
County of Merced, $3,150,700, Franklin-Beachwood Community Park.
Monterey County:
Big Sur Land Trust, $3,673,917, Carr Lake Restoration and Park Construction.
Orange County:
City of Santa Ana, $3,502,500, Bristol-Tolliver Street Urban Greening Project.
Riverside County:
City of Menifee, $524,700, Sun City Park.
San Diego Canyonlands, $3,071,328, Manzanita Greening and Canyon Health Project.
San Francisco County:
City and County of San Francisco, Public Works, $456,250, Planting Trees + Growing Green Jobs: San Francisco Street Tree Nursery Project.
Santa Cruz County:
City of Watsonville, $827,853, Watsonville Ramsay Park Phase IV Project.
Tulare County:
City of Dinuba, $2,720,558, Viscaya Community Park Project.
Ventura County:
City of Oxnard, $3,529,632, Campus Park Central Oxnard Urban Greening Project.
Yuba County:
Yuba County, $3,589,700, Friendship Park Beautification Project.