Published Date:

State Leaders Call on 196 Nations to Find Common Ground to Protect Nature
California Joins New Alliances of States and Provinces to Accelerate Environmental Conservation
SACRAMENTO -- State leaders today applauded a landmark global agreement to protect nature reached in Montreal on the final day of the United Nations Biodiversity Conference (COP 15). The signing of the historic Kunming-Montreal Global Biodiversity Framework, which is being hailed as a "Paris moment for nature," came days after California Secretary for Natural Resources Wade Crowfoot, seven California legislators, and other state leaders stepped on the international stage in Montreal last week to call for more ambitious action to safeguard the diversity of life on earth.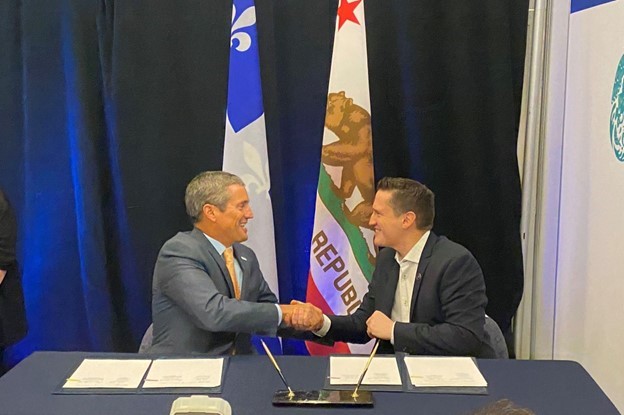 California Secretary for Natural Resources Wade Crowfoot and Quebec Minister of the Environment Benoit Charette sign a joint declaration committing to a partnership to implement 30x30 and protect biodiversity.
California's delegation of over 50 leaders including state elected officials, tribal leaders, scientists, NGOs and philanthropic groups urged leaders from around the world at COP 15 to support an ambitious new global biodiversity framework to protect life on earth.
"California is proving we can protect nature through world-leading actions like 30x30," said Crowfoot. "And COP 15 shows there is international momentum to collectively protect and restore nature and stem the crisis of extinction across the planet. We're here to urge world leaders to translate talk into action."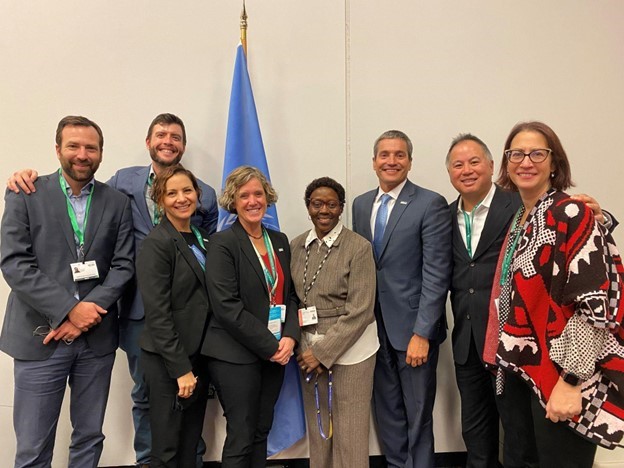 Members of California's delegation to COP 15 (left to right: State Senator Ben Allen, Ocean Protection Council Senior Biodiversity Program Manager and Tribal Liaison Mike Esgro, Acting Deputy Secretary for Oceans and Coastal Policy/Acting Ocean Protection Council Executive Director Jenn Eckerle, Deputy Secretary for Biodiversity and Habitat Dr. Jennifer Norris, California Secretary for Natural Resources Wade Crowfoot, State Assemblymember Phil Ting, and State Assemblymember Laura Friedman) meet with Executive Secretary of the UN Convention on Biological Diversity Elizabeth Maruma Mrema (center).
The new agreement includes 23 targets and 4 goals to be accomplished by 2030, with the longer-range goal of "living in harmony with nature" by 2050. Central to the agreement is a commitment to preserve and protect at least 30 percent of the earth's land and sea by 2030.
California has already embraced this commitment with its first-in-the-nation 30x30 target. Pathways to 30x30: Accelerating Conservation of California's Nature identifies conservation strategies that hinge on empowering local and regional partners, including federal agencies and California Native American tribes.
The 30x30 strategy complements the state's Natural and Working Lands Climate Smart Strategy and newly launched California Outdoors for All Initiative. Taken together, these efforts will drive action on biodiversity, access and climate across California.
California leaders emphasized connection between combatting climate change and protecting biodiversity. "Climate change and nature loss are two sides of the same coin," explained California Natural Resources Agency Deputy Secretary Dr. Jennifer Norris. "We can't stabilize our planet without protecting and restoring nature. And protecting all life on earth requires us to get climate change under control."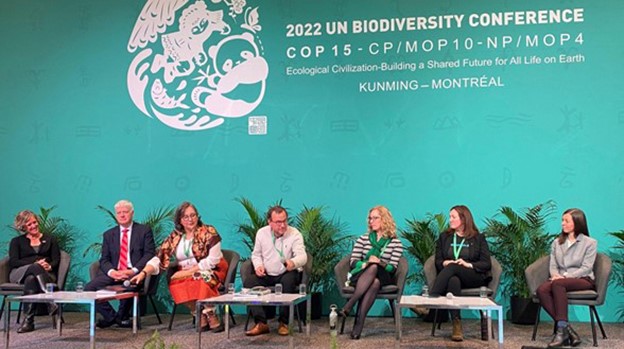 Deputy Secretary for Biodiversity and Habitat, Dr. Jennifer Norris (left), participates in a panel discussion on subnational and local leadership toward 30×30.
While sharing the California experience, the delegation established international partnerships and forged new global alliances by joining the High Ambition Coalition Subnational Task Force, which will support 30x30 across the world, and RegionsWithNature, the new U.N. platform for subnational collaboration on issues such as protected area stewardship, pollution, ecosystem restoration, and the climate-biodiversity nexus.
California leaders also highlighted the state's plan for the world's largest wildlife overpass, the Wallis Annenberg Wildlife Crossing, which will provide a vital bridge for mountain lions and other Santa Monica Mountain wildlife to roam safely between two large areas of habitat bordering Highway 101. The importance of conserving and reconnecting nature – including through wildlife overcrossings – came into sharp relief in recent days as the California Department of Fish and Wildlife announced that iconic mountain lion P-22 was humanely euthanized on December 17 following a comprehensive medical evaluation that found severe injuries and chronic health problems.
This fall, Governor Newsom and the California Legislature approved more than $750 million in new funding to advance 30x30. This funding will enable local and regional groups to expand environmental conservation across the state and expand practices that meet our climate, biodiversity and equitable access goals.
###