Accelerating nature-based solutions to achieve California's climate change goals
Our lands are a critical yet underutilized sector in California's critically urgent effort to build a resilient, equitable, and carbon neutral future. Healthy landscapes can sequester and store carbon, limit future greenhouse gas emissions into the atmosphere, protect people and nature from the impacts of climate change, and build resilience to future impacts of climate change. Unhealthy landscapes have the opposite effect – they release more greenhouse gases than they store, worsen climate risks to people and nature, and are more vulnerable to future climate change impacts.
In October 2020, Governor Newsom outlined a comprehensive and results-oriented agenda to expand nature-based solutions across California through Executive Order N-82-20. It called for restoring nature and landscape health to deliver on our climate change goals and other critical priorities, including improving public health and safety, securing our food and water supplies, and achieving greater equity across California.
The Natural and Working Lands Climate Smart Strategy will drive implementation of the Governor's Executive Order and expanded climate action in this sector, which has been called for in California's Climate Change Scoping Plan and California's recently updated Climate Adaptation Strategy.
California is committed to taking urgent and focused climate action in the natural and working lands sector now, and continuously improving our approach over time. The Natural and Working Lands Strategy:
Defines California's eight natural and working landscapes.
Describes how improved management of these landscapes can deliver on our climate change goals and advance broader environmental, economic, and social objectives.
Highlights priority nature-based climate solutions to address the climate crisis.
Outlines regional opportunities for climate smart land management.
Identifies options to track nature-based climate action and measure progress.
Packages recommendations to scale nature-based climate solutions in California identified through our public engagement process.
The Strategy also identifies priorities for areas of near-term state focus to increase climate action on California's natural and working lands:
Accelerate on-the-ground

projects that deliver climate benefits through nature-based solutions across California's diverse landscapes that state agencies and partners can learn from and that can be scaled-up over time.

Invest in science

to improve our understanding of

implementation pathways here in California and to help scale nature-based climate solutions around the world.

Prioritize equity to drive solutions that help those residents and communities hit first and worst by climate change impacts, including through targeted funding, workforce development, capacity building, and support for tribally-led nature-based solutions

Scale investment

to support

climate action in the natural working lands sector, including through public-private partnerships, demonstration projects, and leveraging federal funds.

Build capacity of implementation partners

through approaches including technical assistance and focused support, grant funding opportunities, and partnering

with California Native American tribes

.

Improve internal coordination

among state agencies to align and leverage funding, authorities, and programs to accelerate implementation of nature-based solutions.

Strengthen collective action by advancing new and innovative partnerships with non-state government groups and leaders and through organizing annual updates and periodic convenings on implementation.
The Natural and Working Lands Strategy was shaped by months of public participation and collaboration, including Tribal consultations, public input surveys, regional discussions, and topical workshops. We are deeply grateful for the insights, experience, and expertise shared by those who engaged in the process. Continued collaboration will be essential to achieving the goals of this Strategy.
Resources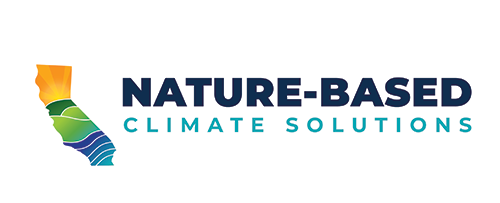 Learn more about the state's plan to achieve 30x30 at California Nature
2021 State Adaptation Strategy
Wildfire and Forest Resilience Action Plan
Strategic Plan to Protect California's Coast and Ocean
January 2021 webinar to learn more about how California plans to deliver on the nature-based solutions Executive Order!