Published Date: 22 September 2023
Wow. It's been a whirlwind week here in NYC at Climate Week. As I pack up to return west, I want to share my thoughts on what it all means:
But first a bit of background: Hundreds of climate change-oriented events are organized each September in New York City to coincide with the UN General Assembly, which convenes all 193 members at UN Headquarters. And this year, the Secretary General convened a Climate Ambition Summit on September 20th to shine a spotlight on the climate crisis and spur global leaders to act.
California showed up in a HUGE way, led by Governor Newsom. He set the tone for the week on Sunday by sharing details on California's landmark lawsuit against big oil for decades of deception about the true cost of burning fossil fuels. This got instant international attention. Governor Newsom also announced that he will sign into law a groundbreaking requirement that large companies disclose how much carbon pollution they generate. The lawsuit and greenhouse gas emissions disclosure are huge steps forward that made major waves throughout the week—from the UN Secretary General to Jane Fonda to a myriad of national delegations.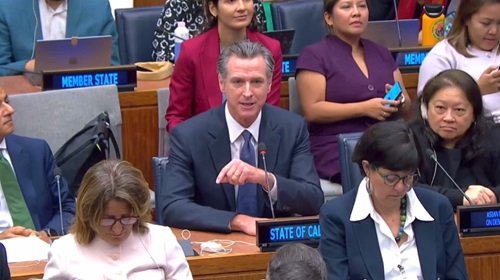 Several of us from the Newsom Administration spread out dozens of events over four days to drive progress. Governor's Climate Advisor Lauren Sanchez, CalEPA Secretary Yana Garcia, CARB Chair Liane Randolph, and CPUC President Alice Reynolds led dialogues and participated in a breadth of events. Importantly, key leaders from our State Legislature were also visible across town. Each of us shared California's story, our lessons learned, and pushed for faster implementation of measurable progress toward our climate targets.
We also made some news of our own:
We launched an action-oriented coalition of states and provinces from across four continents that are taking bold action to limit methane pollution. Methane is a super-pollutant with outsized impact on climate change and the world hasn't focused enough on reducing this kind of pollution. The coalition we launched is meant to accelerate progress meeting the Global Methane Pledge that the United States and others are leading.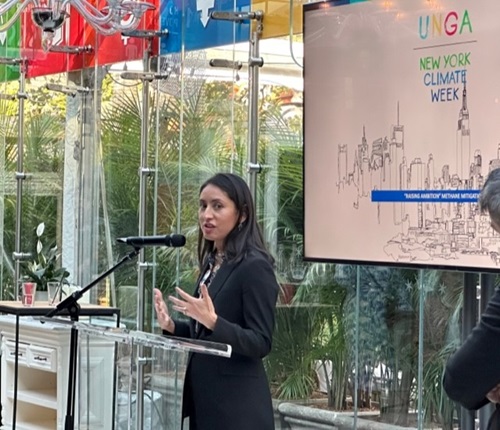 We also joined Governors from across the country with the US Climate Alliance to announce a series of new commitments to eliminate emissions from buildings, including collectively quadrupling heat pump installations by the end of the decade. The time is now to decarbonize homes by replacing dirty gas burning furnaces with fully electric heat pumps that heat and cool buildings. Already, places like Maine have installed heat pumps in almost a quarter of their homes. We were cheered on by Ali Zaidi, President Biden's Climate Advisor, who stressed the importance of Governors' leadership to meet our climate goals.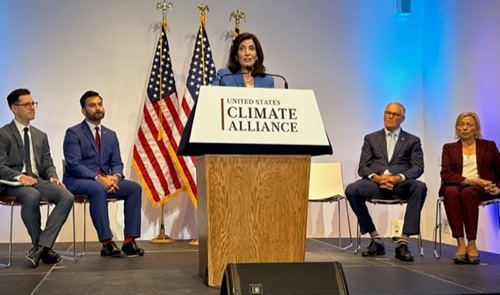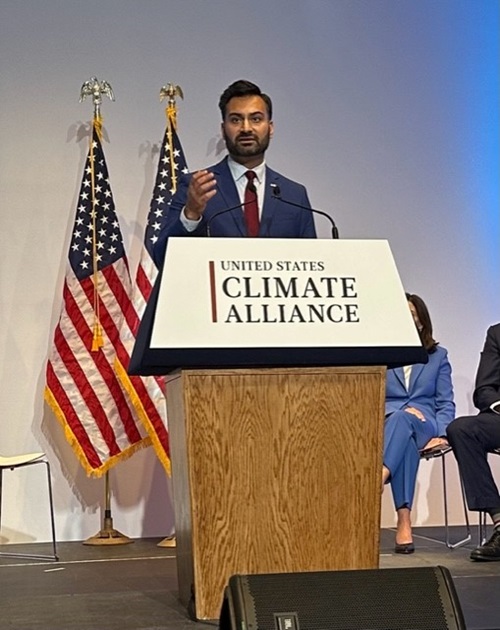 Many of the most interesting convenings were not public announcements at all, but focused, strategic conversations with other governments on how to move faster and further to transform our economies beyond fossil fuels to a cleaner, safer, climate-forward future.
Looking back on the week, I have 5 key takeaways from an incredible week:
It's all about implementation, implementation, implementation. Nations throughout the world already have ambitious climate targets, but they are not being met. Yes, there's been progress—including faster deployment of renewable energy and zero-emission vehicles than previously projected, but we have to move way faster and more broadly. One of the best points I heard this week was in a candid conversation of national climate negotiators from around the world. After some suggestions to focus efforts on improving climate targets from the existing Paris Accord in the upcoming COP 28 negotiations, a veteran negotiator made an emphatic point: "What we need to focus on is actually meeting the targets we already set—we're not doing that."
Cities, states and provinces are lynchpins of getting it done. The international climate community is getting more and more clear-eyed about how many of the most important projects, programs and investments needed to deliver on national targets happen at the sub-national level. If the world is going to stabilize our climate, much of it will happen—and is happening—through local and state governments. Governments like California are leading the way on combating climate change—prompting Washington Governor Jay Inslee changing the term of our levels of government to "supernationals." This year, subnational governments like California will have a more central role in the upcoming UN climate negotiations with a Local Climate Action Summit being co-chaired by U.S. Special Presidential Envoy for Climate Change John Kerry and China's Special Envoy for Climate Change Minister Xie Zhenhua in Dubai.

It's fossil fuels, stupid. Governor Newsom captured the zeitgeist when he called out fossil fuels in his address before the United Nations:

"This climate crisis is a fossil fuel crisis. This climate crisis persists. It's not complicated. It's the burning of oil. It's the burning of gas. It's the burning of coal. And we need to call that out. For decades and decades, the oil industry has been playing each and every one of us in this room for fools. They've been buying off politicians. They've been denying and delaying science and fundamental information that they were privy to that they didn't share or they manipulated. Their deceit and denial, going back decades, has created the conditions that persist here today."

This resonated far beyond the UN this week, with focused discussion about how to actively phase out fossil fuels across the world through entities like the Beyond Oil and Gas Alliance (BOGA), which California helps to lead.

Help nature help us: Nature-based climate solutions are finally getting their due in global climate strategy. For too long, combating biodiversity loss and climate change were treated separately, when we know they are two sides of the same coin. Doing better to conserve nature, including protecting one-third of our planet by 2030—our global 30 by 30 movement—is critical to sequester carbon and buffer climate impacts. More and more countries are looking to climate action in this sector to meet their carbon targets and reduce climate risks. In California, we will continue to do what it takes to deliver climate outcomes through our global-leading nature-based solutions agenda.
California's leadership matters more than ever. Countries around the world look to California to blaze the path to carbon neutrality. Our huge scale as the fourth largest economy in the world, combined with our proven legacy of setting and meeting climate targets, is respected around the world. It gives us a huge platform to push for others to move more quickly. California's bold policy-making and huge climate investments (more funding than many countries!) are considered a global model, and others are actively adopting our policies and programs. We need to double-down on this international engagement, through efforts like Governor Newsom's engagement with China.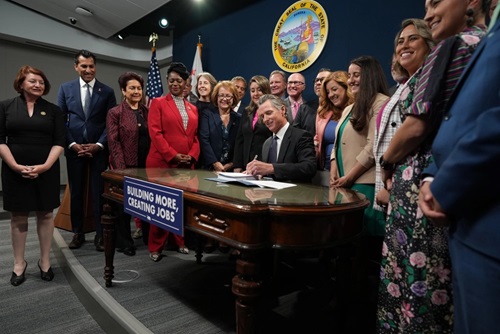 On the heels of the hottest August on record, and scientific reports of alarming ice melt in the polar regions, and as unprecedented fires rage from Canada to Europe, we know we have absolutely no time to waste.
The actions we take this decade, this year, even this month and day, will define the trajectory of life on this planet for the rest of time.
Let's do this.