About
The Secretary Speaker Series is an opportunity to bring in outside voices to discuss emerging issues under the natural resources umbrella. This open forum allows Agency staff to learn more about a variety of topics and helps inform our work stewarding California's resources.
To help expand our reach and audience these events are live-streamed on YouTube and recorded for later viewing. Links to videos will be posted below once ready.
Upcoming Speaker Series Event
Dates and topics are subject to change.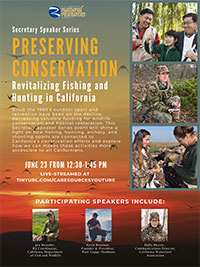 June 23, 12:30 p.m.: Preserving Conservation - Revitalizing Fishing and Hunting in California
This event will be streamed on the Natural Resources Agency YouTube page and will be available to watch after the event
Previous Speaker Series Events
---
May 20, 2020: In Conversation with Obi Kaufmann - Environmentalist, author, and illustrator
---
April 22, 2020: Celebrating the 50th Anniversary of Earth Day
---
March 4, 2020: Stewarding the Sierra Nevada Amidst Climate Change
---
February 18, 2020: 2020 Priorities with Secretary Crowfoot
---
January 14, 2020: Improving Access to California's Natural and Cultural Treasurers
---
November 18, 2019: Protecting California Communities in the Age of Mega-Fires
---
September 5, 2019: California's Biodiversity Challenge
---
July 15, 2019: Reactivating Our Floodplains
---