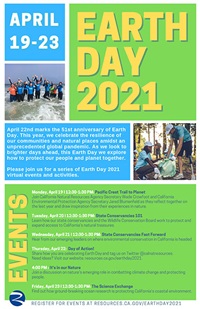 Join us April 19-23 for online events celebrating the 51st anniversary of Earth Day!
April 22 marks the 51st anniversary of the first Earth Day, which is credited with launching the modern environmental movement, and is now recognized as the planet's largest civic event. This year's theme is restore our earth. As the vaccine continues to roll out and the world returns to normal, we can't go back to business as usual when it comes to addressing climate change. 2020 exposed further inequities in our collective society that everyone must play a role in addressing.
This Earth Day we invite you to attend virtual events that focus on California's global leadership in building climate resilience through policies, programs, and partnerships that also increase equity, improve public health, and create economic opportunity.
Earth Day aims to educate and mobilize more than one billion people around the globe to grow and support the next generation of environmental activists. There's so much we all can do to help protect and restore our planet, and it is our hope that these events will encourage each of you to join in, celebrate our beautiful planet and work together toward a more resilient future that we all can be proud of.
Register for online events HERE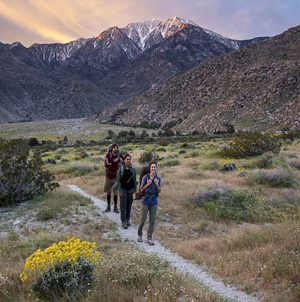 Monday, April 19 I 12:30-1:30 PM: Pacific Crest Trail to Planet
Join California Natural Resources Agency Secretary Wade Crowfoot and California Environmental Protection Agency Secretary Jared Blumenfeld reflect together on the last year and draw inspiration from their experiences in nature.
---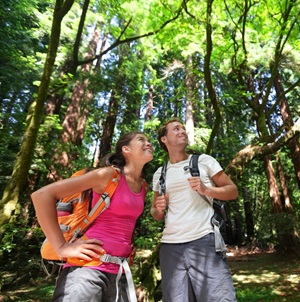 Tuesday, April 20 I 12:30-1:30 PM: State Conservancies 101
Join us for a conversation with leaders from across our conservancies to hear how our state conservancies and the Wildlife Conservation Board work to protect and expand access to California's natural treasures.
California has ten State Conservancies and the Wildlife Conservation Board (WCB) that help protect and restore California's most treasured natural resources for everyone to enjoy. Their jurisdictions vary from urban parks to vast wildlands, and their projects encompass everything from climate change to habitat conservation to ensuring equitable public access. Over time, the conservancies have evolved from basic land conservation to efforts around sea level rise resilience, wildfire response, equitable access, and more – all goals we're trying to accomplish statewide.
Moderator: Secretary Wade Crowfoot
Panelists:
John Donnelly, Executive Director, Wildlife Conservation Board
Jane Freeman, Acting Executive Director, Tahoe Conservancy
David McNeill, Executive Officer, Baldwin Hills Conservancy
Sam Schuchat, Executive Officer, Coastal Conservancy
---
Environmental conservation is one of California's great success stories, with a lot more work to be done. The field of conservation is evolving to be better coordinated, more inclusive, and more equitable. Hear from our emerging leaders where environmental conservation in California is headed and the role state agencies play in creating a California For All.
Moderator: Wade Crowfoot
Panelists:
Whitney Brennan, Ph.D., Senior Environmental Scientist (Specialist), Tahoe Conservancy
Joseph Gonzalez, Project Development Analyst, San Gabriel & Lower Los Angeles Rivers & Mountains Conservancy
Marybeth Vergara, Project Development Manager, San Gabriel & Lower Los Angeles Rivers & Mountains Conservancy
Rachel Wigginton, PhD, Senior Environmental Scientist, Sacramento-San Joaquin Delta Conservancy
---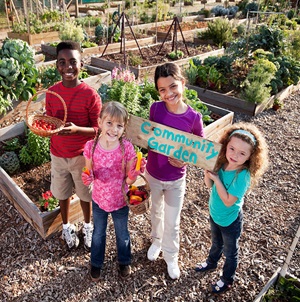 Thursday, April 22: Day of Action!
Share how you are celebrating and tag us on Twitter @calnatresources.
Need ideas? Visit our website: resources.ca.gov/earthday2021
3:00 PM: It's in our Nature: How California's Natural Environment Protects People, Combats Climate Change and Advances Equity
Our natural environment is cherished in California, but often overlooked for its role safeguarding human health, limiting greenhouse gas emissions, and improving the lives of all Californians. This Earth Day, we'll discuss nature's central role to these priorities and how nature-based solutions can be expanded across our state.
Stephen H. Lockhart, M.D., Ph.D, Chief Medical Officer, Sutter Health (Retired) & Chairman of Parks California
Simran Malhotra, Vice President & Principal, Raimi + Associates
Manuel Oliva, CEO, Point Blue Conservation Science
---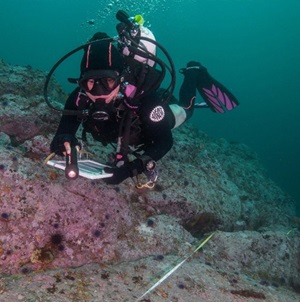 Friday, April 23 I 12:30-1:30 PM: The Science Exchange
Join us as we go behind the scenes (or under the water) to get to know some of our scientists from the Ocean Protection Council. Learn how ground-breaking ocean research is protecting California's coastal environment.
Moderated by: Mark Gold, Executive Director, Ocean Protection Council; Deputy Secretary for Ocean and Coastal Policy, California Natural Resources Agency
Panelists:
Michael Esgro, Marine Ecosystems Program Manager & Tribal Liaison, Ocean Protection Council
Justine Kimball, Senior Climate Change Program Manager, Ocean Protection Council
Join the Natural Resources Agency and departments all week on social media as we share how we are celebrating Earth Day. Share how you are celebrating Earth Day with #CalEarthDay51, #HowISavethePlanet, and #WhyISavethePlanet.
Follow us on Twitter @calnatresources
Need ideas on how you celebrate Earth Day?
Plant a garden or showcase your existing garden
Commit to walking or biking to essential errands
Tree planting or adopt a tree
Backyard composting
At-home zero waste challenge
Energy upgrades: swapping out light bulbs, safely dispose of old appliances, etc.
Protecting pollinators activity: create "bee condos" as a backyard activity
Make a sustainable face mask: use sustainably sourced cloth, cut up old clothing so you do not need to buy anything new, etc.
Buy California-grown, local foods
"Snapshot Submissions" is a public engagement campaign designed to connect environmental advocates and photographers, both professional and hobbyists, around a central theme. The first segment of "Snapshot Submissions" will feature the California Natural Resources Agency's (CNRA) initiative to expand nature-based solutions for climate resilience. We will be asking participants, "

What does conservation look like in your everyday life?

" Participants will respond with a photo entry that may be featured on CNRA social media, on a large digital screen in the new building lobby, and on printed wall displays. Learn more about the contest and how to enter on the
Snapshot Submission webpage
hosted on the California Biodiversity Collaborative website.
Check out these Earth Day activities hosted by our partners and departments!
ACTIVITY: 2021 Earth Day Clean-up
Dates: All of April. Keep track of how many bags of litter you collect, and record it at calparks.org/virtualearthdayreport by May 1.
Organization: California State Parks Foundation
Event/Activity Description: The California State Parks Foundation is teaming up with their friends at REI and calling on our vibrant community of passionate park champions across the state to go out into their own communities and make an impact there. We are asking folks to visit their local state parks, playgrounds, neighborhood parks, or even just their own backyards and pick up trash. Please follow local social distancing safety measures and wear a mask. During this challenging time, we wanted to encourage stewardship of all our natural spaces and give our community something tangible and positive to do while in quarantine. #CalParksEarthDay
Website: https://donate.calparks.org/event/virtual-earth-day-climate-action/e324683
EVENT: "Can the US Take a Lead in Averting Climate Catastrophe?"
Dates: Thursday, April 22 at 10AM
Organization: The Climate Group
Event/Activity Description: This event will bring together senior figures from business and government to discuss the progress made by the Biden Administration in the first 100 days in office and explore the role the administration can take to address climate change in the future.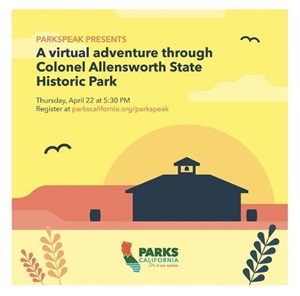 EVENT: Event at Colonel Allensworth State Historic Park
Dates: Thursday, April 22
Organization: Parks California
Event/Activity Description: Celebrate Earth Day this year with us and explore the unique history of Colonel Allensworth State Historic Park, located in California's southern Central Valley. We'll be hearing from a parks-packed panelist group including:
Armando Quintero, Department of Parks and Recreation (DPR) Director
Leslie Hartzell, DPR Cultural Resources Division Chief
Susan Anderson, California African American Indian Museum History Curator and Program Manager
Jerelyn Oliveira, DPR Interpreter
Barney Matsumoto, DPR Service Center Chief
Sasha Biscoe, Friends of Allensworth Statewide President
Register Now