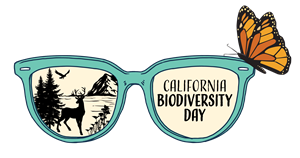 California Biodiversity Day takes place on September 7th of each year, marking the anniversary of the launch of the California Biodiversity Initiative in 2018. This annual event celebrates our state's exceptional biodiversity, while also encouraging actions to protect it. This year, we are excited to have many partners joining us to host California Biodiversity Day events from September 4 to September 12. Please check out the events below to see how you can participate in celebrating California Biodiversity Day 2021!
Event Calendar
Bioblitz competition between Prairie Creek Redwoods State Park and Humboldt Redwoods State Park - California State Parks
Sept 4-12
California State Parks' North Coast Redwoods District is celebrating California Biodiversity Day in several fun ways every day between September 4th to the 12th. Prairie Creek Redwoods State Park has challenged Humboldt Redwoods to a bioblitz competition. If you are in the region, come help your favorite of the two parks catalog their biodiversity using the iNaturalist app. The contest starts Sep 4th and ends on the 11th. We will keep tally of how the contest is playing out on our Facebook pages throughout the week and announce the winner on the 12th! Like and follow our Facebook pages so you can get notifications about the week's many fun and educational events!
BioBlitz of Refugio State Beach and Gaviota State Park – California State Parks
Sept 4-12
Join us at Refugio State Beach and Gaviota State Beach for a BioBlitz! Record and document your observations with iNaturalist as you venture through the park.
Humboldt State STEM Students Bioblitz – Humboldt State University
Sept 4- 12
First-year HSU Marine Biology and Oceanography students and Biology, Botany and Zoology students document and study biodiversity throughout California. This research coincides with the California Biodiversity Week and will be the foundation for the exploration of biodiversity in Science 100: Becoming a STEM professional in the 21st Century class. Through this work, HSU students throughout California will be able to gain a deeper understanding of the rich biological and cultural diversity of our state.
Bioblitz of Hungry Valley SVRA – California State Parks
Sept 9-12
Become a citizen scientist! We need your help to document the types of life within Hungry Valley SVRA. From plants to animals on the ground or in the air, bring your camera and prepare to click, click, click! Please do not pick or disturb any of the plants or wildlife. The areas of the Tumbleweed & Hungry Fire are off limits in order to rehabilitate the location.
Envisioning Our L.A. – Los Angeles Zoo
Saturdays and Sundays, September 4, 5, 11, and 12, 2021, 10AM – 3PM
L.A. Zoo visitors are invited to imagine and share their vision of what people and animals thriving, together, looks like at their home. Visitors will be able to draw a scene showing their ideas, and then attach it to a wall-sized map of Los Angeles. This community-created mural will showcase our collective vision of a city where California biodiversity is valued.
Self-guided iNaturalist bioblitz at North Table Mountain Ecological Reserve - California Department of Fish and Wildlife
Sept 4-12
Explore North Table Mountain Ecological Reserve using the iNaturalist app! A wealth of plants and animals call the reserve home – how many will you discover? Complete your bioblitz at anytime during the course of the week, and remember to bring your own water and that there are no restrooms or facilities on the site!
Scavenger hunt at Nimbus Fish Hatchery Discovery Trail - California Department of Fish and Wildlife
Sept 4-12
Using the free iNaturalist app, join us for a virtual scavenger hunt around the Nimbus Fish Hatchery and along the American River! Bring drinking water. Programing provided in English and Spanish.
K-12 Student challenge: Encountering California Biodiversity Close to Home - California Geographic Alliance
Sept 4-12
California has pledged to make all students environmentally and climate change literate. Outdoor education, fieldwork, and deeper connections with place need to be built into K-12 education to make that happen. As part of this year's recognition of California Biodiversity Day, the California Geographic Alliance is organizing students across the state to become Biodiversity Explorers and Mappers. In the interest of developing environmental literacy and stewardship in all young people, this will be an opportunity for close observation and appreciation of the amazing diversity of organisms present in our state, which is a global biodiversity hotspot. Using the citizen science platform iNaturalist, students will document plants, animals, insects, and other organisms that they observe in their yards, school grounds, or local parks and open spaces. In addition to the individual observations contributing to science, the collective efforts of students will be shared in a unique map using online mapping software (ArcGIS Online) that is freely available to all schools.
Optional informational webinar for teachers and student leaders on 9/2/2021 at 3:45 p.m.
Weeklong Virtual Events at Don Edwards San Francisco Bay National Wildlife Refuge - San Francisco Bay Wildlife Society
Sept 4-12
Join us in celebrating California Biodiversity Day through a variety of fun events and activities highlighting the Don Edwards San Francisco Bay National Wildlife Refuge.
Scavenger Hunt at San Diego National Wildlife Refuge Complex – U.S. Fish and Wildlife Service
Sept 4-12
Self-guided scavenger hunt at any of San Diego Refuges. Refuges open to the public include San Diego Bay NWR, San Diego NWR, and Tijuana Slough NWR. Scavenger Hunt List:


| | | |
| --- | --- | --- |
| A plant gall | Animal tracks | A flower |
| An animal eating | A pupa | Something native |
| A feather | A bird | Something not native |
| A threatened species | A reptile | Something camouflaged |
| An animal with 8 legs | A large animal | Something fuzzy |
| An animal with 6 legs | A beetle | Poison oak |
| An animal with no legs | A mushroom | |
Guided "Bug Extravaganza" at Gray Lodge Wildlife Area – California Department of Fish and Wildlife
9-11:30AM
Join California Department of Fish and Wildlife in a guided Bug Extravaganza on the Gray Lodge Wildlife Area (Butte County). We will showcase the beauty and diversity of these small but important animals, yet we never limit ourselves. In celebration of California Biodiversity Day 2021 (Sept 7th), this citizen-based science event will document wildlife species using the iNaturalist app.
Carpinteria State Beach Native Plant Information and Make your Own Seed Packet – California State Parks
10AM-1PM
Come learn about California's native plants and choose the right seeds for your home! Event will take place at Carpinteria State Beach on Saturday, September 4th from 10am-1pm.
City of Davis Wetlands Tour – Yolo Basin Foundation
3PM-5PM
Yolo Basin Foundation offers monthly tours of the City of Davis Wetlands every first Saturday of the month throughout the year. The tours are appropriate for all levels of outdoor enthusiasts and birders. These are driving tours on gravel roads with several stops and an occasional, optional short walk. The September 4 tour of the City of Davis Wetlands will include a bioblitz, sharing our wildlife sightings and identification with iNaturalist as part of California Biodiversity Day! Come join us in citizen science. This tour is free, but all individuals must register.
Campfire Program on Biodiversity at El Capitan State Beach – California State Parks
8PM
Join us at El Capitan State Beach to discover the biodiversity of the Gaviota Coast. On Saturday September 4th at 8:00pm, a campfire program will highlight our latest Bioblitz and we will share about the incredible diversity of our coastline.
Aquatic Bioassessment in Sacramento River – California State Parks
Join a virtual event with Bidwell Mansion State Historic Park to learn about the diversity of macroinvertebrates that live at the bottom of streams and their roles in determining water quality.
Native Plants Q&A – Audubon California
10-11AM
Do you want a thriving native plant garden that attracts birds & pollinators? Join us for a live Q&A webinar with Audubon's native plant experts to get your questions answered. We'll be sharing tips for selecting native and drought-tolerant plants for your area, creating the best growing conditions, and attracting your favorite birds. We'll be joined by Tania Romero, Program Coordinator, Los Angeles Nursery at the Audubon Center at Debs Park and John Rowden, Senior Director of Bird-Friendly Communities from the National Audubon Society.
Diversity-Bio-Diversity: Showcase and Happy Hour – TOGETHER Bay Area
4-5:30PM
You're invited to a showcase of lightning round presentations about work happening to ensure biodiversity thrives in the Bay Area. Plus there will be happy hour (virtually)! On September 7, learn about what TOGETHER Bay Area members are doing to restore essential habitats, create wildlife corridors, and implement other ways to ensure that the region's flora and fauna thrive. Engage in conversations with colleagues about how we can collaborate and coordinate for biodiversity.
Bioblitz of Cardiff Living Shoreline, Beach and Intertidal – California State Parks
2-4pm
Celebrate biodiversity at the beach! Learn about the Cardiff Living Shoreline Project and help us collect data on the dune, beach and nearshore plants and wildlife.
California Live Bat Acoustic Survey – California Department of Fish and Wildlife
8-9PM
Please join the CDFW Wildlife Health Lab and Wildlife Diversity Program for a live bat acoustic recording session and discover the bats that forage near Sacramento! We will talk about bat diversity, behavior, and their impact on the local ecosystem, while recording the ultrasonic calls bats make while they forage. Please meet at 1010 Riverside Parkway, West Sacramento, CA. We recommend you bring bug spray and a weather appropriate clothing, as we will be outside for about an hour. No restrooms will be available. Please park on the Northern side of the building in an unmarked parking spot. Contact Kate Morozova (Ekaterina.morozova@wildlife.ca.gov) with any questions about the event.
Bioblitz and Guided Walk at Point Lobos State Natural Reserve - State Parks Natural Resource Volunteer Program
10AM-1PM
Join us at Point Lobos State Natural Reserve for a self-guided Bioblitz using the iNaturalist app and docent lead nature walks from 10am-1pm.
Implementing 30×30 in the Bay Area: Regional lessons and strategies – TOGETHER Bay Area
10-11AM
Join us for a conversation with Moira McEnespy, program manager of CA Coastal Conservancy's Bay Program, and Tom Robinson, project lead for the Conservation Lands Network, to learn about critical success factors for implementing the state's 30X30 initiative and reaching our regional goals. We'll answer your questions, too.
Interview with Pollinator Biologists about Wild Bee Conservation in the California – California Department of Fish and Wildlife
10:30AM-12PM
Join the California Department of Fish and Wildlife's Pollinator Coordinator to discuss threats facing pollinators and opportunities to conserve them with Drs. Hollis Woodard (UC Irvine) and Lauren Ponisio (University of Oregon).
Birds, Butterflies, Bobcats, & Buckwheat: Biodiversity Hike at Crystal Cove State Park – California State Parks
9AM
Monarchs and milkweed. Horned lizards and harvester ants. Enjoy a moderate 2-mile guided hike through Moro Canyon in beautiful Crystal Cove State Park and learn about how some of the local wildlife and native plants depend on each other. The hike begins at 9am.
Conservation Lecture Series: Natures Best Hope– California Department of Fish and Wildlife
Please join us for a special Conservation Lecture Series event celebrating California Biodiversity Day featuring Dr. Doug Tallamy a founder of the Homegrown National Park initiative. Recent headlines about global insect declines and three billion fewer birds in North America are a bleak reality check about how ineffective our current landscape designs have been at sustaining the plants and animals that sustain us. Such losses are not an option if we wish to continue our current standard of living on Planet Earth. The good news is that none of this is inevitable. Dr. Tallamy will discuss simple steps that each of us can- and must take to reverse declining biodiversity, why we must change our adversarial relationship with nature to a collaborative one, and why we, ourselves, are nature's best hope.

Bioblitz at Desert Tortoise Research Natural Area – California City Chamber of Commerce
7AM-10:30AM and sunset to midnight
Sign up for, and choose from, guided bioblitzes concentrating on ornithology, herpetology, entomology, botany, or general Mojave Desert life. Recommended times are 7:00am-10:30am and sunset to midnight.
Bird Walk and Talk at Paso Picacho and Green Valley – California State Parks
8AM
Join Environmental Scientist John Lovio, along with Interpretive Staff for a walk and talk to i.d. birds within the Cuyamaca Rancho Campground. This will start early (8am), as it will be hot. Bring your binoculars and Bird list to learn about the habitat and diversity provided in Cuyamaca Rancho Forests.
Guided Hike of Bolsa Chica – Bolsa Chica Conservancy
10AM
Looking for an exciting and educational way to spend your Saturday morning? Join us at 10am on a guided hike of the Bolsa Chica Ecological Reserve! During this tour, you'll learn the history, wildlife, and the restoration of the wetlands! Registration is required.
Biodiversity Day Treasure Hunt – Santa Cruz Museum of Natural History
10AM-12PM
There's a lot going on in our natural world, even in the middle of an urban area! Join the Santa Cruz Museum of Natural History from 10am-12pm for a "bioblitz" treasure hunt in the Museum's Garden Learning Center, located in a pocket park in the middle of the City of Santa Cruz. This biodiversity program is for:
🔎community scientists who have questions about iNaturalist
🌱kids who want to scramble in the dirt
🌼nature lovers who want to learn more about native plants and animals
👀anyone curious!
Museum staff will provide iNaturalist training, resources for identification, and a fun community environment for exploring nature.
Bioblitz in the Elkhorn Slough Reserve's Oak Forest – California Department of Fish and Wildlife
10AM-12PM
Guided by a Reserve naturalist, participants will explore the Elkhorn Slough Reserve's Oak Woodlands to document biodiversity in the understory. No special knowledge is required, though we do encourage folks to come already aware of the iNaturalist app we will use to document biodiversity. The event will take place from 10am-12pm. Registration is required and to do so, visit the events calendar on our website www.elkhornslough.org.
Bioblitz and Hike at Pepperwood Preserve – Pepperwood Preserve
10AM-1PM
Join us in celebrating the incredible biodiversity of our state with a "bioblitz" – an effort to find and identify as many species as we can while we enjoy a walk through the grasslands and woodlands of Pepperwood. We will be using iNaturalist to document our observations, adding to a robust set of data which conservation leaders can use to better understand and protect the living things in our incredible state!
Virtual Behind-the-Scenes Tour with the L.A. Zoo's California Condors – Los Angeles Zoo
11AM
Join this Facebook live event to get an exclusive, live behind-the-scenes look at the L.A. Zoo's California condor facility with one of the animal experts who cares for these critically endangered birds every day. You will learn about the Zoo's efforts to protect this incredible species and see a part of the Zoo normally inaccessible to the public. Q&A to follow the tour.
California Bumble Bee Field Day - Xerces Society for Invertebrate Conservation
10AM
California is a biodiversity hotspot in many ways, and that includes its wealth of native bumble bees! Join the Xerces Society for Invertebrate Conservation's Leif Richardson in San Diego to learn about the bumble bees of California and efforts underway to conserve their populations. The event will be a walk through gardens in San Diego's historic Balboa Park, in which we'll learn to identify bumble bees and talk about their habitats. We'll meet at 10AM in the California Native Plant Garden near the intersection of Florida Drive and Morley Field Drive, near the Balboa Park Tennis Club. Please contact Leif if you plan to attend: leif.richardson@xerces.org.
Flat Tailed Horned Lizards of the Colorado Desert – San Diego State University and University of California Davis
11AM
Please join us to learn about the natural history of the Flat Tailed Horned Lizard in the Lower Colorado Desert and ongoing Genetic studies. There will be a 20-minute presentation and a question and answer session.
Bioblitz at Upper Newport Bay Ecological Reserve – California Department of Fish and Wildlife
ALL DAY
Explore the Upper Newport Bay Ecological Reserve through a self-guided Bioblitz using the iNaturalist app. Participants are asked to please stay on trails at all times.
Bioblitz and environmental DNA (eDNA) sampling at Bothe-Napa Valley State Park – California State Parks
1PM-4PM
Join us at Bothe-Napa Valley State Park for a survey of the park's biodiversity! After an intro talk on the park's ecology and recent work to improve fish habitat, we will be splitting into small survey groups. We will take traditional iNaturalist observations as well as sediment samples for environmental DNA analysis. The event will run from 1 pm - 4 pm, and is aimed at ages 11 and up, though younger children and families are welcome. For more info, contact Rosa Schneider, rosa.schneider@parks.ca.gov. Space is limited, so registration is required.
Celebrating California Biodiversity Day: Biodiversity in Your Spaces – California Naturalist Program
Tuesday, September 14, 2021; 12PM
Join the UC California Naturalist Program to learn how five UC California Naturalist and UC Climate Stewards course partners are using participatory science projects to increase understanding and awareness of biodiversity issues in their unique bioregion. The annual California Natural Resources Agency sponsored California Biodiversity Day celebrates our state's exceptional biodiversity, while also encouraging actions to protect it.
Virtual Nat Talk Climate Series: Fueling the Burn – San Diego Natural History Museum
Wednesday, September 15, 2021; 6 PM
After a wildland fire burns through chaparral and coastal sage scrub, non-native grasses are the first to come back. These invaders are flammable and "flashy" fuels, often spreading flames faster than native plants in future burns. Even worse? As climate changes and these fires become more frequent, flashy grasses only expand further. So what can we do? Turn our eyes to the skies.
Using satellite imagery, Krista West of San Diego State University maps grasses in Southern California shrubland ecoregions. This research helps us better understand the effects of climate change on shrublands, the consequences of grass invasion, and how these changes might affect the fire regime. Firefighters, geographers, ecologists, planners, and community members use the data to determine areas that may require mitigation or wildland restoration strategies before the start of a new wildland fire. Learn all about it in this special Nat Talk.
Virtual Live Lesson Climate Stories: Up in Smoke – San Diego Natural History Museum
Friday, September 17, 2021; 10 AM
Climate change causes higher temperatures, decreased rainfall, and prolonged drought—all of which contribute to more wildfires. Nature recovers from normal fires, but the increasing frequency and intensity of fires is a problem for our plants and animals. Join us as we look at what this means for local wildlife, and learn more about what we can do.