Published Date:

Friday, December 2nd 9:30am – 12pm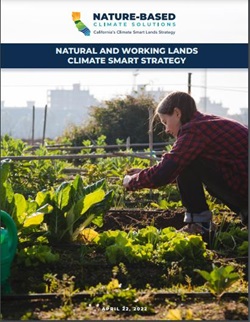 Please join us for the first annual "Natural and Working Lands - Progress and Priorities" listening session to inform the state's update on implementation of the Natural and Working Lands Climate Smart Strategy. We would be grateful to hear your reflections on progress made in 2022 and priorities for climate action in the natural and working lands sector in 2023.
After the listening session, state representatives from CNRA, CDFA, and CARB will provide participants with a short briefing and solicit feedback on near-term next steps for AB 1757 implementation.
This will be a hybrid event from 9:30am – 12:00pm on Friday, December 2nd virtually via Zoom or in-person at CNRA Headquarters (715 P Street, Sacramento CA, 95814, Second Floor Conference Room 2-221).
Translation and interpretation services may be provided upon request. A laptop, tablet, or phone with the Zoom Application will be needed to access interpretation services. To ensure availability of these services, please make your request no later than 10 days prior to the meeting by contacting Kim Arbuckle, at Kimberly.Arbuckle@resources.ca.gov.
Servicios de accesibilidad adicionales, como traducción de inglés a otros idiomas, pueden hacerse disponibles si usted los pide. Se necesitará una computadora portátil, tableta o teléfono con la aplicación Zoom para acceder a los servicios de interpretación. Para asegurar la disponibilidad de estos servicios, por favor haga su petición 10 días antes del taller público, a Kim Arbuckle, at Kimberly.Arbuckle@resources.ca.gov.
To register, please click this link: https://ca-water-gov.zoom.us/meeting/register/tZErf-2vpjkrHtDRDsAWhjwDt9UVol40E-BD