Lake Oroville Community Update - September 8, 2023
Published: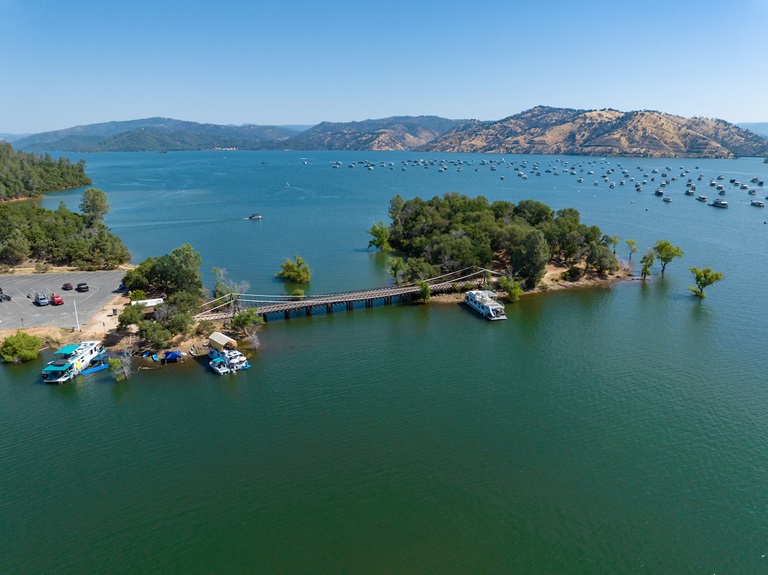 Maintenance Work on Main Spillway Set to Begin
Starting the week of Sept. 11, Oroville-area residents will notice construction staging equipment and materials at Oroville Dam's main spillway. The Department of Water Resources (DWR) is performing maintenance work on localized areas of the spillway to address areas of deteriorated concrete and sealant identified during annual inspections. Periodic concrete and sealant repairs of the spillway are expected due to seasonal temperature variations, spillway releases, and sun exposure.
Approximately 500 square-feet of total concrete repairs are anticipated, representing less than 0.1 percent of the spillway's surface. Concrete work by contractor Syblon Reid will include tying new concrete material to the spillway's first layer of reinforcing steel to provide a longer-lasting repair. DWR will also be replacing joint sealant at select chute slab and wall joints that degrade over time due to the spillway's environment and inspecting 51,000 feet of piping that supports the spillway's improved drainage system.
In 2023 alone, Oroville Dam's main spillway has passed over 2,370,000 acre-feet of water – approximately 67 percent of the capacity of Lake Oroville. The main spillway has continued to perform and operate as designed, passing flows up to 36,000 cubic feet per second this spring. Construction work represents anticipated maintenance activities considering the time since completion of construction, the spillway's use, and its environment.
Construction work this year is expected to continue through November 15, but is dependent on weather and Oroville Dam operations. DWR will be monitoring reservoir levels and weather forecasts closely and will complete repair work early if spillway releases are required for flood control management. The construction contract period extends through 2025, permitting the contractor to complete repairs in future dry seasons should the 2023 construction window be limited.
The spillway was rebuilt to the highest engineering and safety standards with oversight and guidance by the Federal Energy Regulatory Commission (FERC), Division of Safety of Dams (DSOD), and an independent board of consultants. DWR performed a significant amount of inspection and testing throughout construction to verify compliance with project specifications. DWR also provides regular updates to the Oroville Dam Citizens Advisory Commission, a public forum for discussing operations, maintenance, and public safety activities at Oroville Dam and its facilities.
Oroville Recreation
DWR, the California Department of Parks and Recreation, and the California Department of Fish and Wildlife maintain over 92 miles of trails in the Oroville area. An interactive map of recreation facilities, including open boat ramps, and their permitted uses (hike, bike, horse, multi) is available on DWR's Lake Oroville Recreation webpage. A paper trail map is available at various locations, including most entrance kiosks and the Visitor Center.
The Lake Oroville Visitor Center is open seven days a week from 9 a.m. to 5 p.m. Staffed by knowledgeable guides, the Visitor Center features interpretive displays on Oroville Dam, area geology, wildlife and habitat, hydroelectric power, and cultural and historical artifacts. View videos in the theater about the construction of Oroville Dam, walk or hike along nearby trails, and visit the 47-foot-tall observation tower that provides unsurpassed panoramic views of surrounding areas. Free guided tours for school and community groups are available by reservation. Parking and admission to the Visitor Center are free.
Visitors continue to enjoy the abundant recreation facilities throughout the Lake Oroville and Thermalito facilities. All major boat ramps are open with numerous launching lanes and available parking. Floating campsites provide a unique on-the-water camping experience, and several regular campgrounds provide camping throughout the Lake Oroville State Recreation Area while offering close access to water activities. The marinas at Bidwell Canyon and Lime Saddle are open daily and provide a variety of services including a convenience store, gas, and boat rentals.
Current Lake Operations
Lake Oroville is at 849 feet elevation and storage is approximately 2.8 million acre-feet (MAF), which is 79 percent of its total capacity and 138 percent of the historical average.
Feather River releases are currently at 6,000 cubic feet per second (cfs). Flows through the City of Oroville are at 650 cfs and releases from the Thermalito Afterbay Outlet (Outlet) are at 5,350 cfs for a total of 6,000 cfs downstream of the Outlet. DWR continues to assess releases to the Feather River daily.
Around mid-September, DWR's Water Operations division will begin adjusting reservoir levels in accordance with the U.S. Army Corps of Engineers Water Control Manual. This is done each year in preparation for the winter season to provide flood control protection to downstream communities and obtain additional space in the lake for increased storm runoff. Additionally, DWR's Water Operations division monitors forecasts closely to predict incoming storm impacts and determine whether to release additional water to account for higher estimated inflows.
DWR has been using the main spillway intermittently for water releases to manage storage within the Oroville complex or maintain Feather River temperature levels during ongoing river valve outlet system work near the Hyatt Powerplant. When the main spillway is not in use, water may still be seen on the main spillway outlet as the seals on the eight radial gates are not designed to be watertight. The gate seals do not play a role in the structural integrity of the gates, which continue to operate as intended. DWR periodically maintains and adjusts the seals during low-reservoir conditions to improve their sealing capability. The radial gates were last inspected and tested in Dec. 2022.
Visitors to Oroville Dam may also notice minor amounts of water flowing from drains built into the emergency spillway, which is normal and expected with the emergency spillway design. The dam and emergency spillway continue to operate as intended.
The public can track precipitation, snow, reservoir levels, and more at the California Data Exchange Center. The Lake Oroville gage station is identified as "ORO."
All data as of midnight 9/7/2023.