Lake Oroville Community Update - September 1, 2023
Published: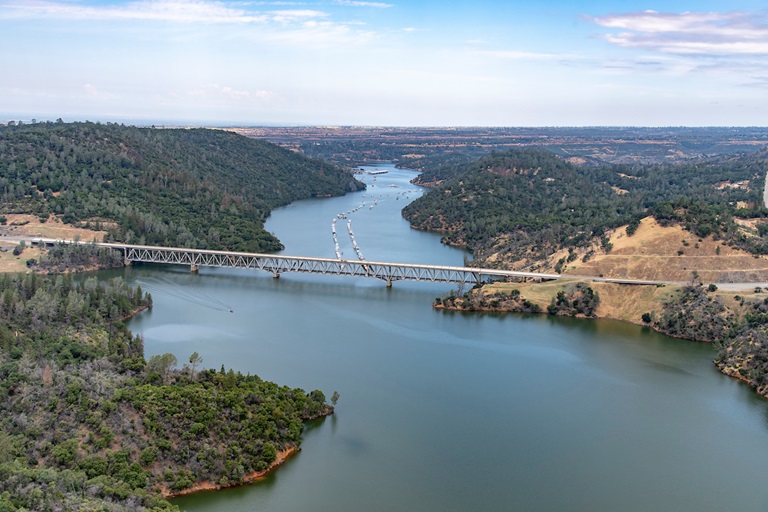 Salmon Habitat Project Complete
The Department of Water Resources (DWR) has completed construction on a salmonid habitat improvement project in the Feather River near the Feather River Fish Hatchery and Bedrock Park in Oroville. The project placed approximately 9,000 cubic yards of gravel at multiple locations to improve existing spawning habitat sites. Salmonid access to existing river side channels was also improved by excavating and redistributing accumulated streambed material. Migratory fish species such as Chinook salmon and steelhead trout rely on Feather River spawning habitats along the low-flow channel, where most spawning activity occurs. Female salmonids lay their eggs in nests called "redds" using coarse sediment, such as clean, rounded gravel.
The project was primarily funded by two grants: the State of California Natural Resource Agency Prop 68 – Protecting California's Rivers, Streams and Watershed Grant Program, and the Central Valley Project Improvement Act – Fish and Wildlife Restoration Activities supported by the U.S. Department of Interior. Previous DWR Feather River spawning restoration projects included the placement of 8,300 cubic yards of spawning gravel in 2014 and another 5,000 cubic yards in 2017.
New Hours for Visitor Center
The Lake Oroville Visitor Center is now open seven days a week from 9 a.m. to 5 p.m. Staffed by knowledgeable guides, the Visitor Center features interpretive displays on Oroville Dam, area geology, wildlife and habitat, hydroelectric power, and cultural and historical artifacts. View videos in the theater about the construction of Oroville Dam, walk or hike along nearby trails, and visit the 47-foot-tall observation tower that provides unsurpassed panoramic views of surrounding areas. Free guided tours for school and community groups are available by reservation.
The Visitor Center also has a new, small library area featuring educational books for children on topics such as nature, the water cycle, science, and engineering. Parents, caregivers, and young children are encouraged to enjoy these books during their visit, with designated seating areas in the lobby or throughout the museum. Parking and admission to the Visitor Center are free.
Explore the Thermalito Afterbay
The Thermalito Afterbay provides an expansive area for watercraft use, with numerous opportunities for motorized and non-motorized vessels. The Thermalito Afterbay and surrounding Oroville Wildlife Area are managed for primitive and immersive wildlife experiences and for the preservation and enhancement of wildlife habitat areas. With 17 miles of shoreline and 4,300 surface acres of water, the Thermalito Afterbay is open for boating, swimming, fishing, picnicking, and hunting.
The Monument Hill boat ramp and day use area provides a two-lane ramp with a boarding dock, picnic tables, barbecues, restroom facilities, a fish cleaning station, and a swimming beach. North of the Highway 162 bridge, a 5-mph motorized watercraft speed limit provides opportunities for paddle sports, windsurfing, and fishing. The Wilbur Road boat ramp on the northern side of the Afterbay and Larkin Road Car-top boat ramp on the southern side of the Afterbay provide additional launching facilities for water recreation, with vault restroom facilities at both locations.
Located within the Oroville Wildlife Area, campsites near the Afterbay Outlet offer primitive camping facilities with vault restrooms and trash receptacles. The Thermalito Afterbay outlet is one of the most popular river fishing areas, particularly during salmon runs. To check hunting and fishing seasons and regulations, consult the California Department of Fish and Wildlife.
Several trails in the Afterbay area – Toland Road Trailhead, Tres Vias Trailhead, and East Hamilton Road Trailhead – connect with the popular Brad Freeman Trail for further exploration of the Oroville Wildlife Area. The East Hamilton Trailhead is the only facility with a picnic table and a small gravel parking area.
Oroville Recreation
DWR, State Parks, and the California Department of Fish and Wildlife also maintain over 92 miles of trails in the Oroville area. An interactive map of recreation facilities, including open boat ramps, and their permitted uses (hike, bike, horse, multi) is available on DWR's Lake Oroville Recreation webpage. A paper trail map is available at various locations, including most entrance kiosks and the Visitor Center.
Visitors continue to enjoy the abundant recreation facilities throughout the Lake Oroville and Thermalito facilities. All major boat ramps are open with numerous launching lanes and available parking. Floating campsites provide a unique on-the-water camping experience, and several regular campgrounds provide camping throughout the Lake Oroville State Recreation Area while offering close access to water activities. The marinas at Bidwell Canyon and Lime Saddle are open daily and provide a variety of services including a convenience store, gas, and boat rentals.
Current Lake Operations
Lake Oroville is at 855 feet elevation and storage is approximately 2.87 million acre-feet (MAF), which is 81 percent of its total capacity and 139 percent of the historical average.
Feather River releases are currently at 6,000 cubic feet per second (cfs). Flows through the City of Oroville are at 650 cfs and releases from the Thermalito Afterbay Outlet (Outlet) are at 5,350 cfs for a total of 6,000 cfs downstream of the Outlet. DWR continues to assess releases to the Feather River daily.
Around mid-September, DWR's Water Operations division will begin adjusting reservoir levels in accordance with the U.S. Army Corps of Engineers Water Control Manual. This is done each year in preparation for the winter season to provide flood control protection to downstream communities and retain additional space in the lake for increased storm runoff. Additionally, DWR's Water Operations division monitors forecasts closely to predict incoming storm impacts and determine whether to release additional water to account for higher estimated inflows.
DWR has been using the main spillway intermittently for water releases to manage storage within the Oroville complex or maintain Feather River temperature levels during ongoing river valve outlet system work near the Hyatt Powerplant. When the main spillway is not in use, water may still be seen on the main spillway outlet as the seals on the eight radial gates are not designed to be watertight. The gate seals do not play a role in the structural integrity of the gates, which continue to operate as intended. DWR periodically maintains and adjusts the seals during low-reservoir conditions to improve their sealing capability. The radial gates were last inspected and tested in Dec. 2022.
Visitors to Oroville Dam may also notice minor amounts of water flowing from drains built into the emergency spillway, which is normal and expected with the emergency spillway design. The dam and emergency spillway continue to operate as intended.
The public can track precipitation, snow, reservoir levels, and more at the California Data Exchange Center. The Lake Oroville gage station is identified as "ORO."
All data as of midnight 8/31/2023.