The Many Faces of Flooding in California
Published: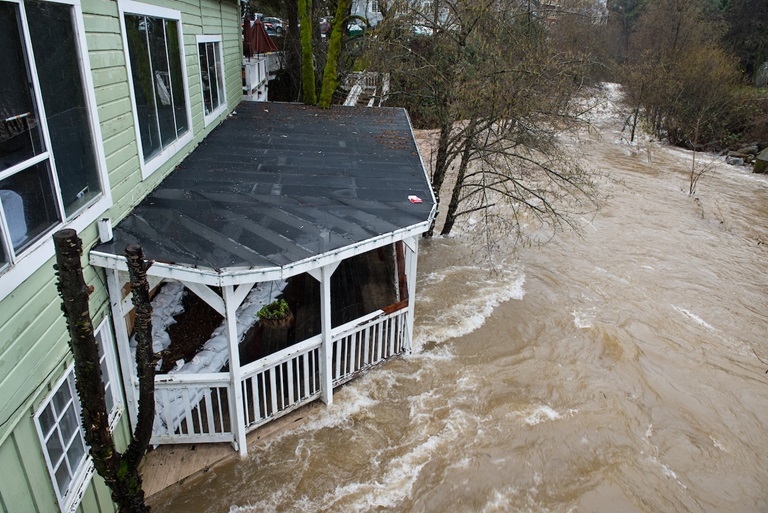 Flooding is a major issue across California – every county has experienced a federally declared flood disaster in the past 20 years.
To help Californians stay prepared this flood season, the Department of Water Resources (DWR) is participating in the eighth annual California Flood Preparedness Week from October 19 – 26, 2019. This year's theme, "The Many Faces of Flooding" reminds us that flooding is a risk throughout the state. Not every part of California experiences every type of flooding, but the results of each is the same: without proper preparedness, lives, homes, infrastructure and agriculture are lost, and damage to the environment and economy is likely.
Preparing for potential floods is critical. Visit DWR's flood prep webpage for tips and resources on how to stay safe this flood season.
Types of flooding that occur in California include:
Alluvial Fan and Debris Flow Flooding
Alluvial Fan Flooding is sudden and unpredictable. It is characterized by relatively shallow depths, high velocity, and moving soil and sediment, creating uncertainty on where rising water will travel. Alluvial fan flooding is unique in that it only occurs on alluvial fans – fan-shaped landforms that has been created by erosion of sediment from an upland water source. Alluvial fans are common in parts of Central and Southern California and as a result alluvial fan flooding is a concern.
Debris Flow Flooding is made up of water, mud, and debris; it can form and accelerate quickly, reaching high velocities and traveling great distances. Debris flows are commonly caused by heavy, localized rainfall on hillsides where vegetation has been destroyed by fire. Debris flows can demolish homes and other structures, wash out roads and bridges, and sweep away cars. With debris flow flooding, mud remains after a flood has receded, causing additional expense to clean up.
Where is it common? Alluvial and Debris flow flooding could occur if you live in a mountainous area, the foothills, or along the coast.
Riverine Flooding
Riverine Flooding occurs when rivers, streams, and lakes overflow their banks. This includes flooding caused by levee failure and channel erosion. Areas adjacent to local streams and creeks can also experience flooding as a result of excessive runoff from heavy rainfall and accumulation of water flowing over broad flat areas. Of particular concern in California are the deep floodplains of the Central Valley, which are subject to periodic riverine flooding. Riverine flooding can be widespread, with floodwaters persisting for just a few hours or several weeks.
Where is it common? If you live near a stream, creek, or river.
Coastal Flooding and Tsunami Dangers
Coastal Flooding happens through a process known as "storm surges," when ocean waves are significantly larger than normal. If a storm event corresponds with a higher than normal tide, extensive flooding can occur. Winds blowing in an onshore direction (from the sea toward the land) can cause the water to "pile up" against the coast, overtopping natural and manmade flood protection structures like sea walls. Coastal communities, especially low-lying stretches of Southern California, are highly susceptible to this hazard.
Tsunami Dangers typically consist of multiple waves that rush ashore like a fast-rising tide with powerful currents. Tsunamis can travel much farther inland than normal waves. Tsunamis are triggered by earthquakes, volcanic eruptions, underwater landslides, and onshore landslides in which large volumes of debris fall into the water. All these triggers can affect California. Some of these triggers happen close to our coastline. If a tsunami-causing disturbance occurs close to the coastline, a resulting tsunami can reach coastal communities within minutes. Coastal communities, especially low-lying stretches of Northern California are highly susceptible to this hazard.
Where is it common? If you live near the coast or in a coastal town.
Flash Flooding
Flash Flooding is the number one weather-related killer in the U.S. because it can roll boulders, tear out trees, and destroy buildings and bridges quickly. A flash flood is a sudden, rapid flooding of low-lying areas typically caused by intense rainfall. Flash floods can also occur from the collapse of a man-made structure. Rapidly rising water can reach heights of 30 feet or more. Although floods can occur throughout the year, California's rainy season usually lasts from November to April. This is when the chance of heavy flooding and flash flood risks is greatest.
Where is it common? Flash Flooding can happen anywhere.
Localized Flooding
Localized Flooding occurs in both urban and non-urban areas during or after a storm. Any storm, particularly slow-moving, steady rain storms, can overwhelm drainage systems. When the system backs up, pooling water can flood streets, yards, and even the lower floors of homes and businesses. Even less intense storms can cause this type of flooding when leaves, sediment and debris plug storm drains.

Localized flooding poses most of the same problems caused by larger floods, but typically impacts fewer people and affects geographically smaller areas. Flooding of this type tends to recur year after year. The aftermath can mean costly damage to homes and property. In many cases, stormwater flooding can easily be avoided by keeping storm drains clear of debris, so the stormwater system can function properly.
Where is it common? If you live in an urbanized area.
Know your risk – find out if your home is in a flood zone, and what type of flooding is likely in your area. Visit the Cal OES MyHazards tool for more information.