New Scale Describes Intensity, Potential Impacts of Atmospheric Rivers
Published: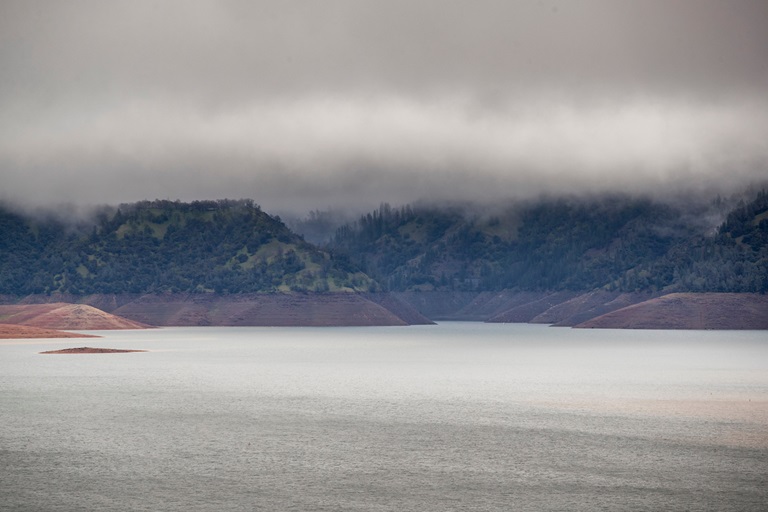 Many of us are familiar with the category system that ranks the severity of hurricanes and tornadoes. A similar system is now being rolled out for atmospheric rivers (AR) -- those long, transient corridors of water vapor that fuel major rain events each winter in the west, especially California.
The new scale will enhance awareness about the intensity of incoming storms to help the public and water managers prepare for beneficial input to water supply and/or hazardous conditions such as landslides and flooding.
The Department of Water Resources (DWR) joined a team of researchers, led by the Scripps Institution of Oceanography at the University of California San Diego, to develop the new AR scale. Storms are ranked on a scale of 1 to 5 based on the amount of water vapor they carry and their duration.
"The AR scale provides a sense of situational awareness of an incoming atmospheric river," said State Climatologist Mike Anderson. "It can help inform the anticipated level of response needed for the event."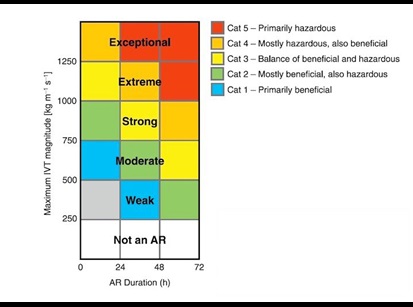 Atmospheric rivers are the source of most of California's water supply, but also cause most of the state's flood damage. Roughly 80 percent of levee breaches in California's Central Valley are associated with landfalling ARs.
The scale recognizes that weak ARs are often mostly beneficial because they can enhance water supply and snow pack, while stronger ARs, especially those of prolonged duration, can become mostly hazardous because of flooding and associated impacts like landslides. In fact, duration of storms is a key factor in determining an AR's classification. When an AR persists more than 48 hours, it is promoted by a category. If it is less than 24 hours, it is demoted by one category.
Alongside this effort to better characterize and publicize the types of atmospheric rivers that California receives, DWR has been investing in research to improve long-term forecasting of these types of major rain events, especially as the climate changes and the planet warms.
DWR has partnered with the National Oceanic and Atmospheric Administration (NOAA) and the Scripps Institution of Oceanography to build a network of coastal atmospheric river observatories in California. The ability to detect and monitor these airborne "fire hoses" that deliver so much of California's water would greatly help DWR's water managers. In November of 2017, DWR and NOAA installed two new atmospheric river observatories – one at Twitchell Island and the other at the State Water Project's Thermalito Complex in Butte County – to provide key data for precipitation and runoff forecasts.
Improving forecasts beyond the 10 to 14 day forecasts that we're used to seeing is critically needed to improve the efficiency of water operations. DWR will continue working with its partners to advance this important research.
Related information: