Safeguarding California and Climate Change Adaptation Policy
California is leading the way on greenhouse gas emissions reductions to avoid the worst consequences of climate change, but no matter how quickly we reduce our polluting emissions, climate impacts will still occur. Many impacts – increased fires, floods, severe storms and heat waves – are occurring already and will only become more frequent and more dangerous. But there are many things we can do to protect against climate impacts. Taking steps now to adapt to climate change will protect public health and safety, our economy and our future.
The California Natural Resources Agency has led the state's climate change adaptation strategy since 2008. This strategy, now called the Safeguarding California Plan, helps organize and synthesize activities happening in three general areas: State Policies and Programs, Local and Regional Action and Projects, and Research and Tool Development. All of these areas are interconnected, and the Natural Resources Agency is working with its many partners to spur progress in all areas.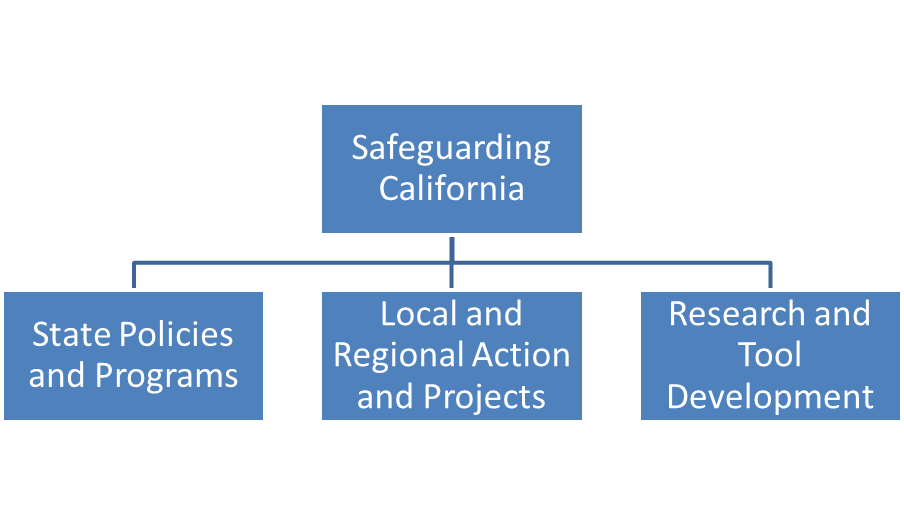 Learn more about Safeguarding California and the State's comprehensive planning and action for resilience to climate change below.


Safeguarding California
Safeguarding California is the strategy that organizes state government climate change adaptation activities. Executive Order S-13-08 required the Natural Resources Agency to prepare the state's first climate adaptation strategy. In 2014, the Natural Resources Agency rebranded the first update of the 2009 as Safeguarding California: Reducing Climate Risk, also known as the Safeguarding California Plan. In 2016, the Natural Resources Agency released Safeguarding California: Implementation Action Plans in accordance with Executive Order B-30-15.
The Natural Resources Agency is preparing a 2017 update to the Safeguarding California Plan. A draft of the plan for public comment will be released in February 2017, beginning a lengthy engagement process to strengthen it by working with communities across the state. Preceding this public comment process, the Natural Resources Agency has released a high-level policy document showing preliminary recommendations that will form part of the foundation of the State's plan to protect California's people, natural resources, and built environment from climate change:
High-Level Policy Recommendations for Safeguarding California
All of these documents outline climate vulnerabilities, identify actions and policy recommendations to address them, and report on existing efforts and science in across various sectors for policymakers and the public.
Read more about the evolution of Safeguarding California and its supporting documents:
2009 California Adaptation Strategy
• 2010 California Climate Adaptation Strategy First Year Report
2014 Safeguarding California: Reducing Climate Risk
• Fact Sheets on California Climate Risks
Safeguarding California: Implementation Action Plans
Find the full report, including an Executive Summary, here. Each of the ten sector plans in the report can be found individually below.
Subscribe
Click here to Sign-up for the CNRA Climate ListServ.