About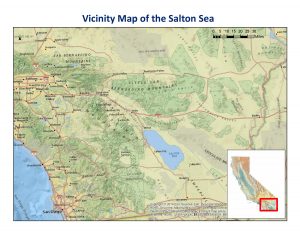 The Salton Sea is California's largest lake. Thirty-five miles long and 15 miles wide, the desert lake extends from the Coachella Valley into the Imperial Valley. Though saltier than the ocean, the Sea supports an abundance of fish, a food source for millions of migratory birds on the Pacific Flyway. Managing the Sea's natural, agricultural, and municipal water inflows to maximize bird and fish habitat and minimize fine-particle air pollution will allow California to protect regional health, ecological wealth and a stable water supply.
Governor Edmund G. Brown Jr.'s Salton Sea Task Force, created in May 2015, has directed agencies to develop a comprehensive management plan for the Sea that will:
Meet a short-term goal of 9,000 acres to 12,000 acres of habitat and dust suppression projects, and
set a medium-term plan to construct 18,000 acres to 25,000 acres of habitat and dust suppression projects.
These goals were memorialized in in 2016 through a 10 year Memorandum of Understanding between the United States Department of Interior and the Natural Resources agency and will be implemented through the Salton Sea Management Program pursuant to the Phase I 10-year plan released in March 2017. The Natural Resources Agency is committed to a transparent process with clearly defined goals and measurable objectives aligned with available fiscal and hydrological resources. Progress made by the program will be overseen by the State Water Resources Control Board and California Air Resources Board.
The Phase I 10-year Plan can be found here
---
---
2017 Meetings
Workshops & Public Hearings
Workshops
Workshop Materials
Workshops Schedule
| | | | | |
| --- | --- | --- | --- | --- |
| Date | Community | Venue | Address | Time |
| 6/13/17 | Mecca | Boys & Girls Club of the Coachella Valley | 91391 66th Ave Mecca, CA | 5:30 – 7:30 p.m. |
| 6/15/17 | Salton City | West Shores Senior Citizens Club | 1375 S. Marina Drive Thermal, CA | 5:30 – 7:30 p.m. |
| 6/22/17 | Brawley | Del Rio Community Center | 1501 I Street Brawley, CA | 5:30 – 7:30 p.m. |
| 6/28/17 | Bombay Beach | Ski Inn | 9596 Ave. A Niland, CA | 2:00 – 4:00 p.m. |
| 6/29/17 | El Centro | IID District Office | 1285 Broadway St. El Centro, CA | 5:30 – 7:30 p.m. |
| 7/6/17 | Indio | Indio Performing Arts Center (IPAC) | 4517 Fargo St. Indio, CA | 5:30 – 7:30 p.m. |
| 7/12/17 | Rancho Mirage | Rancho Mirage Public Library | 71100 CA-111 Rancho Mirage, CA | 5:30 – 7:30 p.m. |
---
Salton Sea Management Program Committee Meetings
| | | |
| --- | --- | --- |
| October 4, 2017 | Science Committee | Coachella |
| October 4, 2017 | All Committee Meeting | Coachella |
| October 3, 2017 | Long Range Planning Meeting | Palm Desert |
| June 20, 2017 | Public Outreach Committee | Palm Desert |
| June 5, 2017 | All Committee Meeting | Thermal |
| May 30, 2017 | Public Outreach Committee | Palm Desert |
| April 26, 2017 | Long Range Planning Meeting | Palm Desert |
| April 17, 2017 | Air Quality Committee | Palm Desert |
| March 29, 2017 | Long Range Planning Committee | Palm Desert |
| March 9, 2017 | Public Outreach Committee | Palm Desert |
| January 25, 2017 | Long Range Planning Committee | Palm Desert |
| January 5, 2017 | Long Range Planning Committee | Palm Desert |
Meeting Archives
---